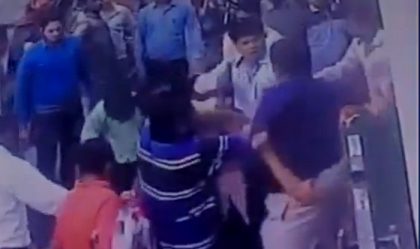 Bulandshahr, UP: while the nation wide strike of medical practitioners demanding protection from acts of violence has come to an end, the acts of violence still continue to persist.
This time the report of violence comes from Bulandshehr UP, where a doctor was brutally thrashed by a mob of both men and women who alleged medical negligence in their patients treatment. The CCTV footage of the incident has gone viral over the social media.
#CCTV footage: Doctor thrashed by relatives of a deceased patient in Bulandshahr(UP). Relatives alleged medical negligence (23.3.17) pic.twitter.com/nYbC8o22FU

— ANI UP (@ANINewsUP) March 24, 2017
The case is that of one Jyoti who was brought to the hospital with complaints of kidney stone. The patient's relatives roughed up the doctor,Doctor Sanjeev Yadav after the she died in hospital during Kidney Stone Operation allegedly due to overdose of anaesthesia. The entire incident was captured on CCTV which then went viral.
An FIR has been lodged against the doctor in a case of medical negligence. While the police has started investigation in the case, District Magistrate of Bulandshahr, Aunjney Kumar Singh, has ordered for a probe to  chief medical officer . "I have asked the police and the CMO to take appropriate action after investigating the case,  the DM told Statesmen.
4 comment(s) on Just as strike called off, another incidence of violence against doctor reported