Karnataka Microbiologist to represent India at Asian Games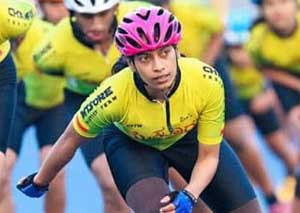 Mysuru: With the like of Dr Varsha Puranik, a microbiologist by profession, the upcoming 2018 Asian Games is going to see a strong contingent from a country to battle for the gold in the roller skating category. The games are going to be held in Jakarta and Palembang, Indonesia, from August 18 to September 2.
"It's going to be tough, but I will be tougher", says Dr Puranik on the competition, during which she is going to face 16 athletes from eight different countries, out of whom four are well-known world champions. This is the third time she is representing India at the Asian Games.
The 30-year-old doctor, the holder of 52 gold medals, currently works as a Consultant Microbiologist with Cauvery Institute of Health Science, while also rigorously training for the sport seven hours a day. After completing her MD in microbiology from JSS Medical College, she joined St Joseph Hospital in 2012 as a Medical Officer. She is a former Clinical Laboratory Scientist at JSS Medical Research.
The national champion, Dr Puranik is a role model to young skaters. She herself started roller skating at the age of three and in short time fell in love with the sport. After turning 18, she started ice skating, wherein shortly she set a record in speed inline skating and ice skating.
While narrating her journey to the New Indian Express, Dr Puranik said, "My mother enrolled me for skating classes when I was three. I was the youngest athlete to represent Karnataka at the National Roller Skating Championship after just one year of training. I feel proud of representing Karnataka, and want to win a gold."
Getting selected for Asian games was the outcome of her hard work and perseverance, she proudly added.
When asked about her training for the upcoming Asian games, she said, "Training for the Asian Games is quite different from other competitions, because this event comes once in four years and there is no room for mistakes. I will try my best."
Awarded her with an Ekalavya Award, she has represented Karnataka in 21 national championships up to 2017 and has emerged a top roller skater in the junior and senior sections. She has been the consecutive National champion in the senior category in the National championships representing the state for the last five years. She emerged as the fastest skater in the country in 2008 and 2010 Nationals.
She represented India at three world championships - five Asian Championships; two Asian Games (Summer and Winter); one World Games and Skating Championship in Venezuela in 2003. She also participated in the World Games in Cali, Columbia, in 2010.
Wishing Dr Varsha all the luck!!