Bengaluru: Sachin Tendulkar inaugurates Aster CMI Hospital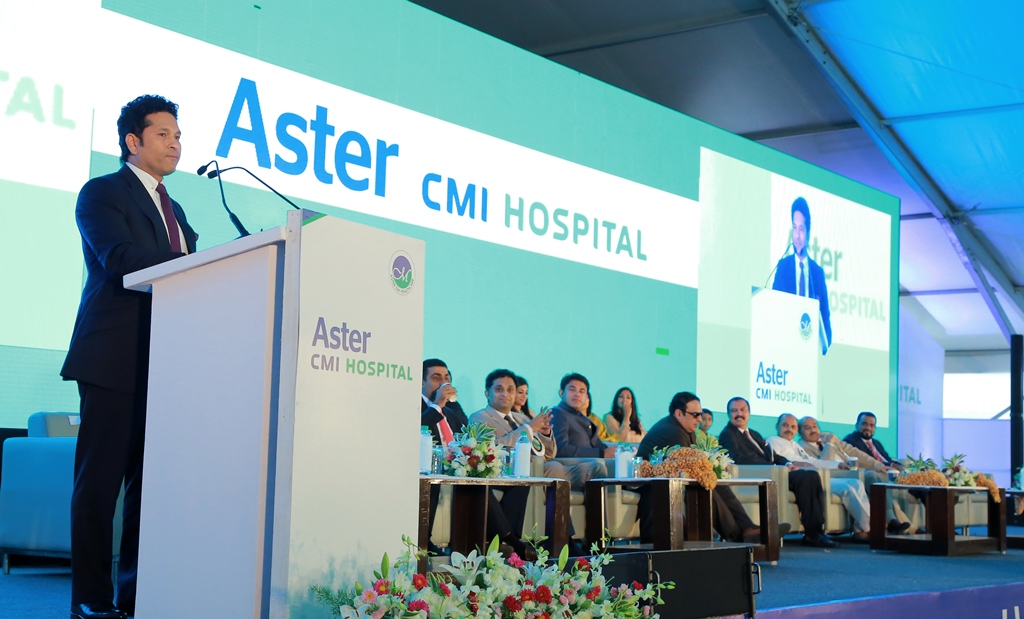 Bengaluru, August 27, 2016: Aster DM Healthcare, formally launched the new upgraded Quaternary Care Super-specialty healthcare facility Aster CMI Hospital at Hebbal, Bengaluru. The Hospital was inaugurated by legendary cricketer Shri Sachin Tendulkar in the presence of Dr. Azad Moopen, Chairman & Managing Director of Aster DM Healthcare and several dignitaries. Representing the values that the Aster DM Healthcare holds dear as it moves forward in its caring mission with a global vision with a commitment to build a healthier tomorrow and to take healthcare to the next level of excellence, the Aster CMI Hospital sets new yardsticks in advanced modern healthcare.
 Present at this inaugural, the Guests of Honor included Shri D.V. Sadananda Gowda, Hon'ble Minister for Statistics & Programme, Implementation, Government of India; Shri Krishna Byre Gowda, Hon'ble Minister for Agriculture, Government of Karnataka; and Shri U.T. Khader, Hon'ble Minister for Food & Civil Supplies and Consumer Affairs, Government of Karnataka.
Dr. Azad Moopen while welcoming the guests said, "India is a key market for Aster DM Healthcare and the Aster CMI Hospital is testament to our mission in bringing world-class medical care to India. With an investment outlay of around Rs.230 crores, Aster CMI Hospital aims to provide medical care in accordance with global best practices in healthcare. Designed to make the patients 'feel better to heal better', the hospital imbibes our core philosophy 'We'll Treat You Well', carrying forward our legacy of excellence with professionalism and dedication."
Elaborating on the Aster DM Healthcare CSR initiative for deserving patients, Dr. Moopen said, "There are several issues that India as a country faces and access to quality healthcare is a challenge for many in the country. I am happy to inform you all that as part of our commitment to society; Aster DM Healthcare has also extended its social initiative in association with Sachin Tendulkar to offer Oncology &Paediatric Cardiac Surgeries for deserving patients in Aster CMI along with Aster Medcity-Kochi and Aster MIMS - Calicut. An outlay of Rs. 2 crore has been earmarked for this as part of this CSR initiative for the next four years."
The inauguration began with a traditional welcome to the dignitaries and guests. Following an emotional rendition of the 'Nada Geetha', the lamp lighting ceremony marked an auspicious beginning of the new endeavour.
This was followed by the unveiling of the plaque by  Legendary cricketer Sachin Tendulkar to inaugurate the hospital. Wishing the dignitaries and guests on the occasion, Sachin Tendulkar congratulated Dr. Moopen and the Aster DM Healthcare family on the opening of another super speciality healthcare facility in India. He said, "My relationship with healthcare runs very long thanks to the multiple injuries throughout my career. In fact, I would not have been able to serve Indian cricket and chase my dreams but for the support and care of many medical professionals and physiotherapists! I also have a medical professional at home which has been my best partnership! Medical issues are not restricted to sportspersons and I can tell you from experience that it is the quality of care which heals! That is where Dr. Moopen and his team have made a special and consistent effort trying to live their philosophy 'We'll treat you well! Physical fitness and wellbeing is key, and we must each pledge towards a 
swasth bharath
."
I am happy to be part of inaugurating Aster CMI and am sure that this facility will add tremendous value to the city. I wish all the staff at Aster CMI the very best for the future!"
It was in May 2014 that Aster DM Healthcare took over the operation and management of Cauvery Medical Center with a commitment to revamp and upgrade the hospital. That commitment has now been fulfilled with the inauguration of the new Aster CMI Hospital.  From a 73 bedded facility, the capacity has now been augmented to 509 beds. From a primary hospital, Aster CMI has now transformed into a quaternary care super-speciality hospital with dedicated Centers of Excellence in Cardiac Sciences, Neuro Sciences, Gastro Sciences, Surgery and Allied Specialties, Nephro and Uro Sciences, and Orthopaedics
After the inauguration of the hospital, the Centers of Excellence were inaugurated by the Guests of Honor present on the occasion. Aster CMI also has a well-designed outpatient department offering preventive, diagnostic, curative and rehabilitative services. The comprehensive services include immunisation, health Screening, Laboratory and Radiology services and minor surgical procedures.
Delivering the vote of thanks, Dr. Nitish Shetty, CEO, Aster CMI said, "Overseeing the transformation from Cauvery Medical Center to Aster CMI has been a challenging and rewarding experience. Today we are proud to present this advanced healthcare facility to the citizens of Bengaluru. With highly skilled, humane professionals with proven expertise in their areas of specialization, we are confident that Aster CMI Hospital will be the first choice for the citizens of Bengaluru for any healthcare related issues."
Here are some pictures from the launch