Kasturba Medical College achieves milestone in oncofertility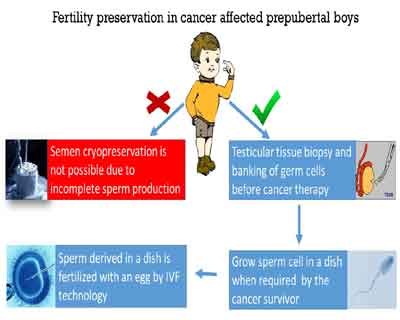 Manipal: Centre for Fertility Preservation, Kasturba Medical College, Manipal achieved a milestone by providing fertility preservation care to cancer affected pre-pubertal boys, in collaboration with University of Muenster, Germany. In a first of its kind programme in the country, the recently established Centre has successfully cryopreserved testicular stem cells from two boys diagnosed with lymphoma.
"India is seeing increased incidence of childhood cancer in boys and due to advancements in cancer treatment, there is a tremendous increase in the number of cancer survivors. However, oncofertility (fertility preservation) research in India is still in its infancy and we are glad that Fertility Preservation Centre has taken a challenging task to help cancer affected boys," said Dr Vinod Bhat, Vice Chancellor of Manipal University.
The Centre will maintain the immature germ cells until the patients attain adulthood and ready to start their own family. Parallely, the Centre is also researching on the derivation of mature sperm cells from pre-pubertal tissue.
Gonadal damage leading to infertility is a relatively common consequence of the treatments used to cure childhood cancer as the testes have a low threshold for damage induced by commonly used anticancer drugs and radiation.
"Germ cells are retrieved from one of the testicles by a simple biopsy before the commencement of the cancer therapy. 'This is relatively a simple surgical procedure and does not affect the future sexual function of the children' said Dr Vijaykumar, a paediatric surgeon who performed the surgical removal of germ cells from the testis. "This is a significant step forward towards providing fertility care by our team" said Dr PoornimaBaliga, Dean, Kasturba Medical College, Manipal.
The Centre for Fertility Preservation has consortium members from specialities such as IVF scientists, Paediatricians, Oncologists, Surgeons and Gynaecologists. "As India does not have such specialized facility, our Centre will soon serve as a national resource for cancer affected children so that testicular tissues collected from the other hospitals anywhere in the country can be transported to Manipal for banking purpose," said Dr Satish Kumar Adiga, who is heading the programme here in Manipal.
Using animal models, several advancements have been made in this direction in Germany and other European countries to successfully cryopreserve pre-pubertal germ cells and derive mature spermatozoa outside the body. But so far, this approach is purely experimental. "We are collaborating with various research institutes in the world including Manipal University to develop a technique of mimicking the entire process of mammalian spermatogenesis in a culture dish" said Dr Stefan Schlatt an Adjunct Professor to Manipal University who is also heading the fertility preservation programme in Germany.
Alexander von Humboldt foundation, a non-profit organisation established in Germany, to promote international research cooperation is supporting the activities of the Centre with other Indian agencies such as Department of Science and Technology and Indian Council of Medical Research.