Kerala: Medicos stage Strike against suspension of two doctors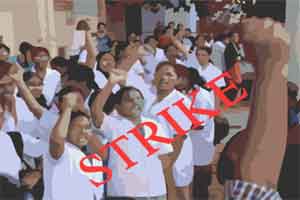 Kochi: The medicos of the Government Medical College, Ernakulam including Junior residents and house surgeons, staged a strike on Friday demonstrating against the suspension of two doctors, Dr Jills George, head of medicine department and junior resident Dr Binu, and pending enquiry into the matter, in an alleged case of medical negligence in the death of Shamna Tasneem a second year MBBS student of the college.
The pending investigations were declared by the hospital authorities to take place in the last week of the past month, as mentioned in a report by MedicalDialogues Team earlier. The doctors were suspended on Thursday.
Read Also: Kerala: Board yet to begin probe into Kochi Medico's death 
In support of the two doctors who were suspended, the striking medicos have demanded that the government should have taken measures to address the issues outbreaking over the medical college rather than taking action against the doctors.
The alleged case of medical negligence in concern, is of a second year medical student, Shamna, hailing from Mattannur, who died of fever after an injection was administered on her at the medical college on July 18.
Her parents alleged that their daughter died due to lack of proper treatment by the hospital authorities and the absence of proper equipment and facilities at the hospital.
Despite of the strike, the functioning of the hospital remained normal, where only the striking doctors only remained out of practice.
Dr. V K Sreekala, the principal of the Medical College told TOI, "The strike by the medicos did not affect the functioning of the medical college. All, including junior residents and house surgeons, deployed in the ICU and casualty were present. The striking medicos stayed away from OP duty. But the faculty members were there to take care of the OP. So, the functioning of the medical college was not affected by the strike," said Dr V K Sreekala, principal, medical college.
On the suspension notice of the two doctors, she added that suspension notices were sent to the two doctors concerned in the case and "We sent the compliance report to the state government today," Sreekala said.