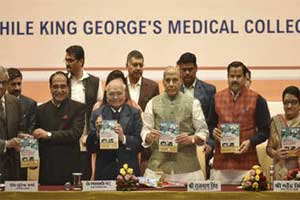 Lucknow: Union Home Minister Rajnath Singh said on Sunday that King George Medical University (KGMU) getting the status of AIIMS could take some time as it is a policy matter and need proper clearance from all the government channels.
Medical Dialogues team had earlier reported in the year 2017, after being elected the UP CM, Yogi Adityanath announced that the King George's Medical University (KGMU) will soon be upgraded into a state university and also get the status of AIIMS.
The state university status would give the university an  affiliation advantage with other medical and dental institutions. The granting of the AIIMS status, would mean an addition of super specialty departments, increased foreign research collaborations and better healthcare facilities.
................................ Advertisement ................................
Read Also: Good News: University and AIIMS status to KGMU soon
................................ Advertisement ................................
The issue was once again raised up recently when  Mr Singh was in the state capital to attend the 114th foundation day celebrations of KGMU.
The event saw the VC Prof MLB Bhatt handing over a letter of request to Union home minister Rajnath Singh in this regard. The VC pointed out that KGMU undoubtedly deserves a status like All India Institute of Medical Sciences ( AIIMS ) for greater autonomy to start new courses and frame and design policies.
KGMU being the oldest medical college in India and has the largest hospital, there is demand from the faculty to give it a status of AIIMS, he pointed out .
However, reacting to their demand, the Minister informed that a discussion was undertaken with the health ministry in this regard and was informed that a change in policy was needed for the task which would need more time.
Author Details
Medical Dialogues Bureau consists of a team of passionate medical/scientific writers, led by doctors and healthcare researchers.  Our team efforts to bring you updated and timely news about the important happenings of the medical and healthcare sector. Our editorial team can be reached at editorial@medicaldialogues.in. Check out more about our bureau/team here
................................ Advertisement ................................
0 comment(s) on KGMU asks for getting status of AIIMS, Home Minister says it will take time