Kolkata: At least 11 babies hospitalised with adenovirus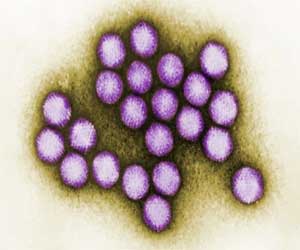 Kolkata:  At least 11 babies, some stated to be in serious condition, have been admitted at the Institute of Child Health in the city with adenovirus, the hospital sources said.
Out of eleven, five babies have been kept in ventilation while six others have been undergoing treatment at the Intensive Care Unit (ICU) of the hospital.
Read Also: Nipah virus alert sounded in Tripura
As many as 60-70 children affected with adenovirus have been treated at the hospital for the past two months.
The babies who have been admitted to the hospital are aged between four months and one year, a senior doctor of the hospital said.
Some of the patients died despite best efforts by the doctors, he said.
Read Also: West Nile virus effects 7 year old in Kerala, Know about the Disease
There is also a crisis of influenza vaccine due to the rising number of viral infection patients in the past two months.
There is no proper vaccine for adenovirus and hence the doctors are administering other medicines to the patients.
The affected children are developing a lung infection, which eventually leads to pneumonia.
Children are more susceptible to the virus due to their low immunity, an official of the hospital said.