Lady Hardinge Medical College : Doctors Outcry for Developing Dilapidated Hospital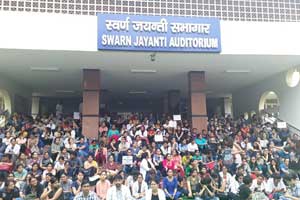 New Delhi: Around two thousand resident doctors and students of Lady Hardinge Medical College (LHMC) observed a hunger strike yesterday demanding the administration to restart the Comprehensive Redevelopment Plan (CRP) of the hospital, which has been stalled since three years.
The strike was called off after the Ministry of Health promised urgent intervention in the matter
Comprehensive Redevelopment Plan (CRP)
As per the plan, which had been approved in 2007, the hospital was subjected to get a new Out- Patient Department (OPD) block, an In-Patient Department (IPD) with 350 beds, a trauma centre and a hostel for students.
The construction for the same was started in March 2012 at a cost of Rs 586 crore. By 2014, it should have been completed, however, citing the lack of funds, the private contractor left the project. Later, the government terminated the contract in 2015. This unfortunately left the hospital in dilapidation.
"The incomplete structure has become a breeding ground for mosquitoes. Many cranes and other equipment are lying idle, rusting on the constructed site," a senior doctor pointed out.
Therefore, halting the medical services, the protestors initiated the strike on 31st July, saying they will end it only when the authorities give a timeline for completion of the construction project. All the OPDs were shut down and no new patients were given admission during the strike.A day after, the Union Health Ministry agreed to meet their demands.
While justifying their decision to start the strike which is affecting patient services, Dr Vivek Chouksey, President of LHMC Resident Doctors' Association (RDA) affirmed that they had written multiple letters to the concerned authorities regarding the stalled CRP. Now, when the CPWD inspection Report stated that the infrastructure of the hospital is not safe, the RDA decided to make their voices heard by observing a strike.
"If anything unfortunate happens because of this, the concerned authorities will be solely responsible!," quotes the RDA.
He told
TOI
, "We are about 1500 resident doctors, 100 faculty members and other paramedic staff whose lives are at major risk. The hospital gets submerged in water during rain. Walls are broken and the roof can fall down any time."
"The lives of hundreds of patients, doctors and other staff are in danger, but the government is paying no heed to our concerns," he said.
The doctors finally called off their strike after they got a written assurance of resolving the issue of stalled CRP within a period of four months.
Other hospitals associated with LMCH facing same condition
LHMC also runs Sucheta Kriplani and Kalawati Saran hospitals which see a footfall of nearly 2,000 patients daily. While the former hospital continues to run from a tarnished 102-year-old building because of delay in construction of a new one, the latter suffers a severe space crunch. Not only this, iron girders supporting the arch-style building of Sucheta hospital, are rusted.