Learn Sign Language: State government to Doctors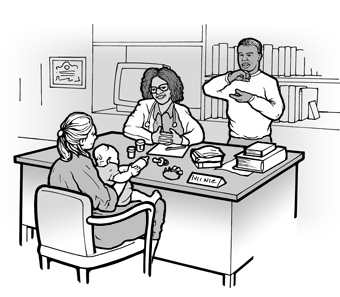 JAIPUR: In order to equip medical practitioners towards better treatment of hearing impaired persons, the state government is going to give lessons in sign languages to selected doctors in the state. An order towards this effect was issued by the state health department directing all government as well as private hospitals with at least 50-bed capacity to have a doctor who can understand sign language to effectively communicate with speech and hearing impaired patients.

For successful implementation of the plan, all the district hospitals have been asked to nominate a doctor in their hospital to learn sign language. TOI reports that a Mumbai-based organisation, which works for hearing impaired persons, will give lessons to selected doctors.

"The Mumbai-based organisation, which has centres in other states also to work for hearing and speech impaired people, will teach the doctors in a programme, which will be at least 15 day long to be held in Jaipur," Dr Ramavatar Jaiswal, state nodal officer, National Programme for prevention and control of deafness said.

At the initial stage, measures are being taken to teach at least one doctor in district hospitals of all 33 districts about the sign language. The said classes will begin in January,2017 with four to five experts coming to train the doctors.

The move comes after, the state health minister Kalicharan Saraf directed the officials to make arrangement of at least one doctor in hospitals who know sign language as doctors find it difficult to understand what hearing and speech impaired patient is trying to communicate about his disease.