Lucknow: Fire breaks out at KGMC hospital, no casualties reported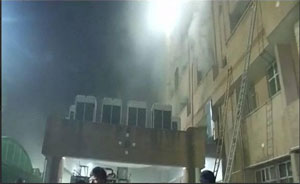 Lucknow: A massive fire broke out on the second floor of the Medicine Department of King George Medical College Trauma Center late on Saturday evening.
The center has been evacuated by the hospital staff and the patients have been taken out.
No casualties have been reported till now.
"The fire is massive. It is a medicine ward. Property has been destroyed. The complete ward has been evacuated. The patient of the OT have been shifted to the Shatabdi Hospital," said one of the doctors of the hospital.
Another hospital administrative official said the situation is under control, but there is a lot of smoke in the Intensive Care Unit (ICU).
"There is no risk on the fifth and the fourth floor. All the patients are safe. Rest of the floors has been evacuated," he said.
Meanwhile, the Uttar Pradesh Cabinet Minister Brajesh Pathak said that the Trauma Center caught fire due to short circuit.
"Nearly 150 patients have been shifted to another hospital and all of them are safe. The fire tenders have been able to douse the fire," he said.
Pathak also assured to probe into the matter and that an action will be taken against the one responsible for this carelessness.
"If the fire broke out, that simply means that there were some lapses on the part of the administration, but it is difficult to point out a specific person at this time. We will first probe the matter," he assured.
Union Health Minister J.P. Nadda also took to his Twitter to express his concern over the same.
"Spoken to @sidharthnsingh ,Health Minister UP & inquired about fire accident in KGMC. Health Secretary,GOI is in touch with state officials," he tweeted.