Madras High Court dismisses review application by state government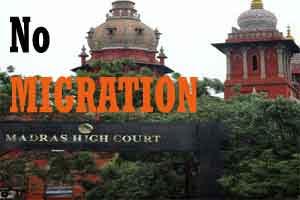 The Madras High Court has reportedly dismissed a review application by the state government against a direction to allow two MBBS students of a private college to migrate to a government medical college.

Two separate petitions were filed by P. Ramya and E. Fenla Bell. These two second year students of  Karpaga Vinayaga Institute of Medical Sciences and Research Centre in Kancheepuram respectively were seeking transfer to government medical colleges after completing their first year in private medical college.

They were admitted in the academic year 2014-15 under government quota. On September 10 they made an application to the Selection Committee of Directorate of Medical College, Chennai, seeking permission to migrate to Government Stanley Medical College and Coimbatore Medical College against two vacancies.

As reported by the Hindu, citing rules that prohibit students who were already admitted in the previous year for being considered for admission the next year or to migrate to other institution, the authorities objected to the petitioners' claim.

However, on September 18, Justice M.M. Sundresh, ruled the decision in favour of the education of the students as against the financial interest of the institution, as further implied by the Hindu. It has now directed the authorities to allow the students to migrate to the government colleges.

Passing a common order on the review application and the contempt proceeding, Justice Sundresh dismissed the review plea with a direction to the authorities to comply with the orders of the court within two weeks.