Maharashtra: 10 year jail to Two Doctors involved in female foeticide racket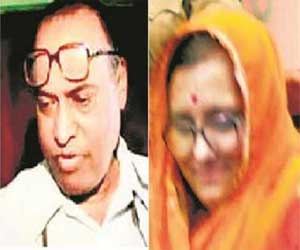 Both the doctors along with the patient's husband have been awarded a 10-year imprisonment 
Beed: In a precedence-setting judgement by a court in cases of female foeticide, a Beed district court Friday sentenced three persons, including a doctor couple, to 10 years of rigorous imprisonment in a case related to a woman's death during an illegal abortion.
The doctor duo along with the patient's husband were found guilty under the Medical Termination of Pregnancy Act (MTP),culpable homicide not amounting to murder (IPC 304), causing miscarriage (IPC 312), death caused by act done with intent to cause miscarriage (IPC 314), and for an act done with intent to prevent child being born alive or to cause it to die after birth (IPC 315).  They have been discharged, however, under the PC PNDT act according to media reports
The court convicted Dr Sudam Munde, his wife Dr Saraswati Munde and another accused, Mahadev Patekar, in the 2012 case.
Mahadev Patekar's wife Vijaymala, a labourer a mother of four daughters, was admitted to Dr Munde's hospital at Parli in the district for abortion in 2012. The family wanted her to terminate the pregnancy as a medical examination had revealed that the foetus was female.
During the abortion, carried out illegally, she died due to excessive bleeding.
Read Also: Maharashtra: Three doctors booked for illegal abortions
A case was registered at Parli police station against 17 accused including Dr Munde and his wife.
6 years later, Additional District Judge A S Gandhi on Friday held the Munde couple and Mahadev Patekar guilty and awarded them ten years of rigorous imprisonment.
Eleven accused were acquitted due to lack of evidence, said Public prosecutor Milind Waghirkar. Three of the accused had died during the trial.
The racket that had appeared after the botched operation in 2012 had shocked the entire medical community after the police raided the hospital and found 20 foetuses buried in the compound of the hospital and a farm run by them. The hospital also contained special cells that were used for the purpose of conducting abortions
The Mundes were barred from practising medicine by the Maharashtra Medical Council and the hospital had been sealed
Earlier, Dr Sudam Munde and Dr Saraswati Munde had been convicted in a sex determination case following a sting operation.
Read Also: Doctor in custody for performing illegal abortions