Maharashtra: 14 Hospitals issued show cause notice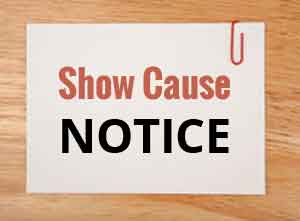 Jalna: The health department has issued show-cause notices to 14 hospitals in the district for allegedly flouting norms, an official said.
The notices were sent after a committee headed by district civil surgeon M K Rathod conducted checks at 350 hospitals, nursing homes and sonography centres in Jalna, Bhokardan, Ambad and Partur municipal councils in the district.
The operation was launched on May 1, the official said.
"We paid surprise visits to 350 hospitals, including 67 sonography centres, and found that 14 of them did not follow the rules laid down under the Bombay Nursing Home Registration Act," Rathod said.
"Show-cause notices have been issued to these hospitals. They will face action if they do take the necessary steps," he added.
The committee checked whether the health centres conformed to the rules under Pre-Conception and Pre-Natal Diagnostic Techniques Act, Medical Termination of Pregnancy Act, apart from the Bombay Nursing Home Registration Act.
"The committee also checked whether these nursing centres and hospitals followed the laid-down safety standards, like fire safety and disposal of bio-medical waste," he said