Maharashtra: Doctors entitled to TB leave now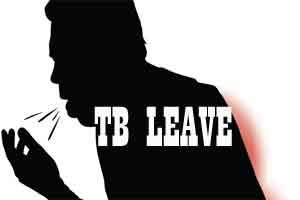 Tuberculosis (TB) has been affecting the medical community in Maharashtra, with many medical trainees and resident doctors in the state suffering from this health ailment.

The medical education department has taken serious note of the situation, and has announced medical leaves for such cases. This is in view of helping these medicos to avail a complete treatment in the granted time frame.

The first of its kind initiative in India finds its roots in the hospitals only; the same place where these doctors treat the TB patients and therefore, come in close contact with them. The situation gets only worst when these doctors (treat the TB patients) during unusual working hours, and most likely do not follow proper precautionary measures. Then, there are additional factors such as poor infection control and less usage of masks which adds to this medical woe.

As reported by Punemirror, "Given the rising incidence among us, we had demanded that doctors who suffered from TB be granted leave, so that they can complete their treatment. In the last three years, we have seen around 90 new cases of TB, a rather underestimated figure as doctors are biased and uncomfortable to talk about their condition. There has been a 10 per cent rise in cases as, in 2013, 25 new cases were registered whereas in 2015, we saw more than 35. This new TB leave scheme will help us in knowing the exact number of doctors suffering from the disease as it will be recorded with the government," shared Dr Sagar Mundada, central president of the Maharashtra Association of Resident Doctors (MARD).

As implied by a senior doctor from Sassoon's B J Medical College on condition of anonymity, there have been two to three new medicos TB cases being reported every year. The problem becomes only grave as these doctors don't take leave as they have work to finish. Some of them are even diagnosed with multi-drug resistant (MDR) TB. Out of the 662 medical trainee doctors in 2012-2013, almost 26 were detected with TB.

Confirming that the TB leave was indeed being granted, Dr Pravin Shingare, state director of medical education and research, implied that a total of 75 days leave has been sanctioned for the medical trainees and resident doctors. They have almost no time to follow a regimen to help them recover, even in cases where they are vulnerable after diagnosis. If they continue to work like this, it will only worsen their condition.