Maharashtra: Hospital restores limb movement in Ethiopian man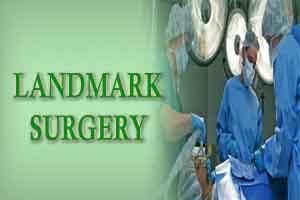 Mumbai: A 58-year-old Ethiopian man, who lost control over the movement of his limbs due to a neurological disorder, was successfully cured in India after a minimally invasive surgery, said authorities at the Bombay Hospital.
The problems of patient Erba Bekele Bedada started with a neck pain which worsened and subsequently he lost control over his limb movements.
"Bedada suffered from Cervical Myelopathy, very common in elderly patients. It refers to the compression of cervical spinal cord resulted from spinal stenosis. The patient may feel heavy legs that may develop the inability in them to walk at a brisk pace. A feeling of extreme pain is raised in the arms and legs when he/she bends forward, usually like an electrical shock," said Dr Arvind Kulkarni, head of Spine Scoliosis and Disc Replacement Centre at the Bombay Hospital.
Initial treatment in Ethiopia and various other African countries didn't yield any positive result.
According to Kulkarni, the surgery proved fruitful as the pain was reduced significantly and the patient was able to move his limbs.
Explaining the procedure, Kulkarni said a small incision was made in the midline of back of his neck to elevate the para-spinal muscles.
"Then the disc was inserted directly under the nerve root with the use of operative microscope for better visualisation and gently mobilised to free up the disc herniation," said Kulkarni.
He also said the procedure had to be carefully followed as it might have damaged the nerve root.
The doctor further said he had to be very careful with the surgical procedure as he had to protect the nerve plexus above the disc which might have obstructed our view if damaged.
Talking about his condition, Bedada said, "I am able to feel an improved and balanced walking on my own. I don't find a reason to get a support and that too within a week."