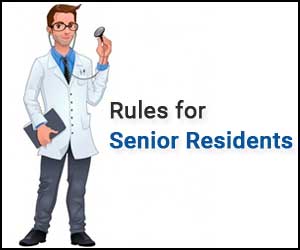 New Delhi: Through a recent gazette notification, the Medical Council of India Board of Governors (MCI BOG) has amended the Teacher Eligibility qualifications (TEQ) Rules, to incorporate the new definition of Senior Resident.
These Regulations have been called the "Minimum Qualifications for Teachers in Medical Institutions (Amendment) Regulations, 2019 and are effective from the date of their publication in the Official Gazette that is 16th August 2019.
The gazette amends the definition of Senior resident so as to include Diploma Candidates as well as to increase the upper age limit of senior residents from earlier 40 years to 45 years
In particular, In the "Minimum Qualification for Teachers in Medical Institutions Regulations, 1998", in Schedule I, Clause 6, as substituted vide notification dated 01/11/2018, under the heading "I. Broad Specialties (MD/MS/DNB)' the teaching & research experience of 'Senior Resident (Broad Specialties), shall be substituted as under:-
"Senior Resident (Broad Specialties)
Senior Resident Senior Resident is one who is doing his/her residency in the concerned post graduate subject after obtaining PG
degree/Diploma (MD/MS/DNB/Dip.) and is below 45 years of age.
With this, thousands of doctors would now breath a sigh of relief, as the amendments bring two-fold changes
Now the upper age of senior resident has been increased from earlier 40 years to now 45 years, enabling many doctors to join as senior residents at medical colleges
The notification also the word Dip. (short for Diploma) after the word DNB under the recognised PG qualification after which one can pursue senior residency. This would imply that even Diploma candidates can now join as senior residents in medical colleges.
The gazette comes after the Union Health Ministry gave its nod to the decisions of the MCI Board of Governors made in this regard. The decisions are highlighted as below
Decision (26.03.2019)
"The Board of Governors approved the proposal for relaxation in the age of Senior Residents (Broad speciality) in the Armed Forces from 40 to 45 years. The appropriate amendment to be placed before the Board of Governors at its subsequent meeting for their approval."
Decision (23.04.2019)
"The Board of Governors decided to accept die request of State Government of Tamilnadu and raise maximum age for Senior Resident from 40 years to 45 years in the Minimum Qualifications for Teachers in Medical Institution Regulations, 1998for both government and private Medical Colleges and Hospitals.
Decision (11.05.2019)
"The Board of Governors approved the proposal to include the word "Diploma" after DNB" in the definition of Senior Residents in the Minimum Qualification for Teachers in Medical Institution Regulations, 1998."
Senior Resident-ship (SRship) is a necessary entry point to medical academics in India. Medical Dialogues team had earlier reported that taking cognisance of the hardship that many doctors are facing on account of the fact that the centre has not approved the notification taken out by Medical Council of India (MCI) on increasing the age limit of Senior residentship (SRship), the Madras High Court recently pulled up the central government in this regard
Read Also: Increase Maximum age of Senior Resident as per MCI draft: Madras HC directs Centre
12 comment(s) on Major Changes: MCI Gazette amends TEQ Rules, redefines Senior Resident