Major fire in under-construction Nagpur hospital; none hurt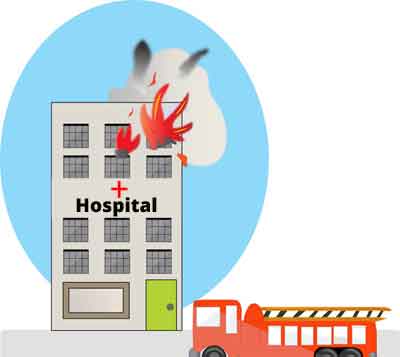 Nagpur: A major fire occurred Wednesday in an under-construction hospital building located in a residential area close to the Nagpur railway station, officials said.
No casualties has been reported so far but one person was admitted to a nearby hospital for inhalation of smoke.
Though he didn't specify the exact number of workers present in the building at the time of the incident, eye-witnesses said around 300 labourers were inside.
The blaze occurred in the third floor of the ten-storey building at around 2 PM when interior works were underway, said Nagpur Municipal Corporation fire officer Rajendra Uchke.
It didn't spread to the upper floors.
After the fire broke out, eight labourers got stuck inside due to heavy smoke for some time before they were rescued by fire personnel, he said.
"No casualty has been reported so far. One person was admitted to hospital for inhaling excessive smoke," he said.
Uchke said the building interior work was going on when the fire started from the third-floor auditorium where chairs were being fixed.
He said sparks from welding might have triggered the blaze.
According to eye-witnesses, fire tenders had to enter the premises through the gate of the neighbouring LIC building, as a truck and some construction material blocked their access to the under-construction building.
A total of eight fire tenders were pressed into service for dousing the fire.
Meanwhile, as thick smoke enveloped the area, staffers of a high school adjacent to the building evacuated students as a precautionary measure.
Residents of nearby residential buildings also rushed out as smoke billowed out from the third floor of the under-construction building.
The flames were put out completely at around 3:30 PM.