Make specialists doctors posting in Lakshadweep compulsory: Parl panel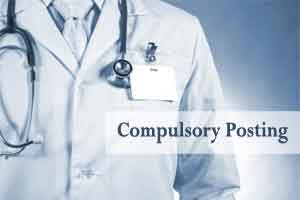 New Delhi: Anguished over the government's lackadaisical approach towards medical requirements of the people of Lakshadweep, where several posts of specialists doctors have been lying vacant for over 13 years, the Parliamentary Panel has recommended to dismiss the services of doctors, if they are reluctant in joining in the Union Territory.
Recommending the government to incorporate a clause for doctors in its policy for compulsory posting at Lakshadweep, the parliamentary committee on Administration and Development of Union Territory of Lakshadweep said in its report, "The Ministry of Home Affairs (MHA) must pursue the medical recruitment agencies and the Ministry of Health & Family Welfare to incorporate a clause in the Recruitment Rules for mandatory postings to Lakshadweep without any exception and any reluctance on the part of doctors may be a sufficient ground for their dismissal from services."
The panel-headed by Congress veteran leader P Chidambaram observed that several posts of specialists doctors were lying vacant for 13 years and queried the ministry for the steps taken to resolve the issues.
The Home Ministry said that numbers of attempts were made to address the issues but it didn't translate into reality as the doctors posted at the Central government were not willing to stay in the Union Territory.
The Home Ministry took up the matter with the Health Ministry over compulsory posting at Lakshadweep but the ministry said invoking mandatory postings wouldn't be feasible as there were shortage of specialists doctors throughout the country.
The Committee also found that the medical seats provided to the Union Territory were reduced to just five from 13 and recommended to rollback of this measure.
Meanwhile, the panel also recommended for providing adequate funds to the UT for the purpose of outsourcing of specialists doctors.
Besides, it also suggested for providing special allowances and incentives to candidates who are willing to work in Lakshadweep.