MARD, GMCH Aurangabad wing may go on Strike from tomorrow 8.am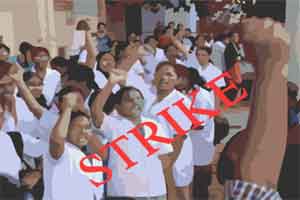 Following the incidence of alleged Assault of the a Junior resident of the Medicine Department at the hands of MIM member at GMC Aurangabad, the entire medical community seems to be feeling restless. Such incidences it seems, are becoming all too often and all to familiar for anyone's comfort.
Following the Incident, residents of GMCH  filed a complaint in the Begampura Police station and received an FIR in written. With only verbal assurances received from the Commissioner of Police, MARD,GMCH Aurangabad, doctors have decided to go on strike tomorrow.
In a letter addressed to the Commisioner of Police, Aurangabad city, Dr Akshay Kashid,  Vice-President and Dr Vikas Rathod, President, MARD, GMCH, Aurangabad have written that unless the accused is arrested as soon as possible, it has been decided in the general body meeting of MARD 2015 that  Maharashtra Association of Resident Doctors, GMCH Aurangabad will go on an indefinite strike from tomorrow morning, 8a.m
Attached is the copy of the said letter.