Mass Cheating in NEET PG Exam 2018, alleges Activist Anand Rai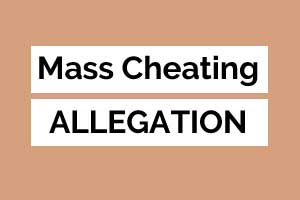 New Delhi: Mass cheating has occurred in the recently conducted NEET PG/MDS Exam 2018, Activist Anand Rai has alleged.
Vyapam scam whistle-blower, Dr Anand Rai, who had raised similar allegations on the conduct of NEET PG last year, yet again made his objections on conducting exams through NEET, via twitter. He alleged that cheating happened on a mass scale at NEET Centres in kurukshetra, gorakhpur, lucknow.



Mass level cheating in# NEET PG MD MS Entrance 2018, kurukshetra, gorakhpur, lucknow ion digital centre#NBE @PMOIndia @DelhiPolice pic.twitter.com/dLuB4a1GCQ


— Dr. Anand Rai (@anandrai177) January 11, 2018
Regarding the modus operandi, His tweet implied that cheating happened with the use of screen sharing software, TeamViewer, that also allows a particular system to be remotely accessed from another system
Rai, through another tweet also alleged that Scam of cheating had involvement of Ion Digital as well as NBE officials adding that they have access to database and can manipulate it anytime



#NEET PG MD/MS Entrance2018 scam, Ion Digital & NBE officials are involved, they have all acess of daatabase can manipulate anytime. Kingpin from maharastra @DelhiPolice @PMOIndia @rajnathsingh @IndianExpress pic.twitter.com/rJLh768HPG


— Dr. Anand Rai (@anandrai177) January 11, 2018
This is not the first time Dr Anand Rai has pointed to irregularities in conduct of Medical entrance exams. Last year, similar allegations were made by him on the conduct of NEET PG 2017 as well as on the conduct of AIIMS MBBS entrance exam, with both matters being before court currently.
Read Also: 
Analysing digital evidence in AIIMS paper leak: CBI to HC