Mass vaccination against swine flu not recommended: Health Ministry panel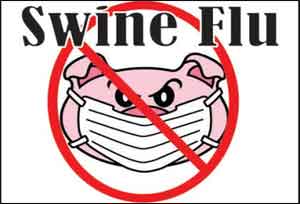 New Delhi: A committee set up by the Health Ministry to review its guidelines on seasonal influenza vaccination (H1N1), in the wake of a spurt in swine flu cases, has said there is "no need" for mass vaccination. The committee, headed by Dr A C Dhariwal, Director of the National Centre for Disease Control (NCDC), has also suggested vaccinating people aged over 65 and children six months to eight years on a case-by-case basis.
Swine flu has killed 1,714 people this year, six times the fatalities recorded last year, with a total of 34,009 cases reported across the country till September 17. As a result, the demand for vaccines has shot up across the country. "There is an increase in the demand for vaccines from states. However, globally, studies have shown that vaccination provides 60-70 percent protection from the virus for about a year. Also, it takes at least two weeks for immunity to develop," said a senior health ministry official. "The committee, in its report, has stated that mass vaccination is not recommended," the official said.
The ministry had earlier this month constituted the committee to redefine categories to be vaccinated on priority on the basis of the areas most hit by swine flu by revisting its guidelines on seasonal influenza vaccination (H1N1). According to the existing guidelines, vaccination is recommended for pregnant women, persons with chronic illnesses and co-morbid conditions such as chronic obstructive pulmonary disease, heart disease, diabetes, cancer, and an impaired immune system. It also recommends vaccination for health care workers in hospitals and institutional settings with a likelihood of exposure to influenza virus.
The guidelines state that elderly individuals above the age of 65 and children six months to eight years should also be vaccinated. "At a meeting, some states said if we consider all these age groups and conditions, then the demand exceeds the availability of vaccines in the market. "To meet this challenge, the committee was constituted to determine who all in the community should be vaccinated on the basis of high-risk zones," Dr Dhariwal said.
Till September 17, 568 people have succumbed to H1N1 infections in Maharashtra, 413 have died in Gujarat, 165 in Rajasthan and 86 in Uttar Pradesh. Swine flu is a respiratory flu and has symptoms such as fever, sore throat, headache, cough, runny nose, diarrhoea, nausea and vomiting. It is highly contagious and spreads quickly from person to person. It was declared a pandemic in 2009 by the World Health Organisation.