Mathura: Doctors perform cardiac surgery on a six month old with Blue Baby Syndrome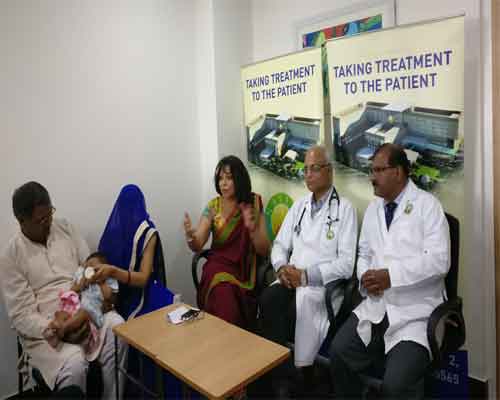 Mathura:  Nayati multi super speciality hospital, announced successful pediatric cardiac surgery on a 6 month old child suffering from blue baby syndrome who had multiple holes in the heart.
Yuvraj Singh, 6 month old baby was diagnosed to be suffering from congenital heart disease (tetralogy of fallot) - blue baby syndrome one month back when child had fever. The patient's family learnt about various successful surgeries being performed at Nayati. They were convinced after meeting Nayati's team of cardiac sciences and few past cases. The child was extubated within two hours of surgery and has been discharged.
Dr. Venugopal Ram Rao, Chairman of Nayati Centre for Cardiac Sciences stated "This was another historic critical Pediatric Cardiac surgery being performed in Western U.P on such a small child. The child was operated successfully and underwent Intracardiac Repair with closure of both holes, closing of abnormal communication (PDA) and enlarging the narrowed blood vessel leading to left lung with assistance of heart lung machine. The child was shifted to post OP cardiac surgical ICU and was removed from Ventilator within two hours. It was a challenging feat as such a complex surgery was never performed on a six month baby in this region before.
India has the largest burden of heart disease among children with 2 lakh children born every year with some form of a congenital heart defects (CHD). This number is far greater than the number of children with the condition, and is expected to keep growing in the country. In less than 6 months, we have performed critical Pediatric cardiac surgeries ranging from 6 months to 19 years - all complicated and never been performed in the region."
Niira Radia, Chairperson Nayati Healthcare stated, "There is nothing more rewarding than saving the life of a child. With the help of our world class specialists, state-of- the-art technologies, we are giving our best to perform such critical surgeries on younger children in this region. The health statistics here reveal a rise in congenital heart disease among children in the region. Most of such diseases can be prevented through timely intervention. However, only 10 per cent of the affected infants with serious heart disease receive timely intervention. The remaining 90 per cent children do not survive because of late or no diagnosis. It is critical that awareness be created amongst the masses on early diagnosis so that the little ones can lead a healthy happy life. The Nayati team of Cardiac Sciences offers comprehensive care for patients with cardio vascular disease at an affordable cost and are fully equipped to handle such cases."