Max to complete buyout of Saket City hospital for additional Rs 300 cr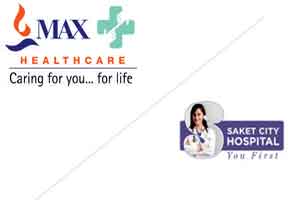 New Delhi: Max India, the parent company of Max healthcare is all set to complete the buyout of New Delhi's Saket City Hospital. In the late 2015, Max had acquired 51% stake in Saket City Hospital Pvt. Ltd., from Smart Health City Pte Ltd, the Singapore based BK Modi Group company which managed and operated the Delhi based Saket City Hospital (SCH). Now the organisation is aiming to buyout the remaining 49% stake in Saket City hospital, for a value estimated to be a little more than Rs 300 crore, reports ET
Read Also : Max Healthcare to acquire 51 percent stake in Saket City Hospital
Rahul Khosla, chairman at Max India, the holding company of Max Healthcare (MHC), told ET the hospital chain would acquire the balance stake in Saket City Hospital in due course after getting all the regulatory approval. Khosla, who is also president of Max Group, refused to divulge financial details of the proposed transaction.
The news also coincides, with the listing of Max India on stock exchange from today. Max India is the holding company of Max Healthcare, in which it holds 45.95% stake, Max Bupa Health Insurance, with 51% stake, and Antara Senior Living, which is a wholly owned subsidiary.
In the past one year, Max has been on a takeover spree in the nation's capital. Before acquiring 51% stake in Saket City Hospital, it had also acquired Pushpanjali Crosslay Hospital in the outskirts of Delhi for about Rs 290 crore last year.
Read Also : Max Picks up 76% stake in Pushpanjali Crosslay
As reported by Medical Dialogues team earlier, SCH, which started operations in 2013, has 230 operational beds and is currently expanding to 300 beds. Max Healthcare plans to further expand this facility by 900 additional beds, thereby expanding SCH's capacity to 1200 beds. This addition represents a more than 50% increase compared to Max Healthcare's current capacity and will significantly enhance access to quality healthcare. Hence with the takeover of Saket City Hospital and combined with Max Healthcare's existing nearby located flagship facility (Max Super Speciality Hospital – Saket), Max Healthcare will have a footprint of more than 2000 beds in Saket – making it one of the largest single-location healthcare facilities in India.
ET reports that while with the expansion, the healthcare chain while now put added focus on laboratory services and home care