MaxiVision Super Specialty Eye Hospitals founder Dr Kasu Prasad Reddy honoured with prestigious ICL award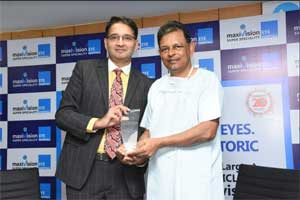 Hyderabad:  Hyderabad-based MaxiVision Super Specialty Eye Hospitals Founder Dr. Kasu Prasad Reddy has been conferred with prestigious ICL award for achieving the highest landmark in ICL surgeries in India. Dr.Kasu Prasad Reddy  & His Team of Refractive Surgeons being awarded for highest number of Toric lenses (EVO Vision TICL (Toric ICL) in India crossing 3000 lenses. MaxiVision Eye Hospitals has also carved out its place as the only hospital in world to have successfully done 5000plus ICL Surgeries which comes in Spherical and Toric Powers.
Speaking on the occasion Dr.Kasu Prasad Reddy – Founder & Mentor of MaxiVision super specialty eye hospitals, Hyderabad said, good eye sight is very important for all, impaired vision, or vision with external aids is exasperating some times, particularly when we do swimming or climbing up mountains and moving out during raining etc.Many of us have various life ambitions. Someone wants to climb up the Himalayas while others wish to excel in sports. Few other like to outshine in the film industry but contact lenses become a hindrance for attaining their aspirations as it can be a barrier in their attempt to outdo in their field. ICL (Implantable Contact Lens) is one good solution for them as it has turned out to be the boon to overcome vision problems in them. They no longer need to put in and remove contact lenses frequently. We successfully carried out many ICL (Implantable Contact Lenses) surgeries and paved way to reach out their life ambitions. Their Vision has improved a lot and helped them succeed in their life well, He said.
Adding further Mr.Achal Aanad – Country Head, Staar Surgicals (USA) said contact lenses are still an impediment when worn for long hours and you may feel tired too. Wearing glasses has become a thing of past after ICL procedures came in to use. With UV protection ICL is also effective in preventing dry eyes problems. It is effective solutions for people with thin corneas, He said.
Sudheer, COO of Maxivision Eye Hospital Group, said, Maxivision is focused on providing best quality eye treatment with state of the art technology and inputs. With our stringent quality check parameters, our rejection rates of patients disqualified for Lasik are very high in Maxivision. There are many patients who want to get rid of their glasses but not suitable for standard Lasik procedures available with us.
Though slightly expensive than standard Lasik procedures, ICL is one of the best quality solution for permanent correction of glass powers, and it qualifies many patients who does not have adequate cornea thickness to undergo standard Laser procedures. ICL Surgeries can be performed only by highly experienced surgeons and Maxivision Referactive Surgeons are extensively trained by Staar Surgicals to ensure no compromise on visual outcome of every patients who undergo the treatment. Our highest numbers are testimony to this.