MCI Amendment: Passing Criteria for MD,MS, PG Diploma revised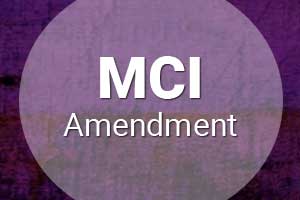 New Delhi: Through a recent amendment in the Postgraduate Medical Education Regulations, 2000, the Medical Council of India has revised the passing criteria for the Medical examinations for PG Medical courses in the country, including MD, MS as well as PG Diploma courses. With the amendments, the apex medical council has revised the passing criteria for individual subject exams while keeping the overall pass percentage of theory exam the same as before
The said amendment was published in the Gazette in the Month of April 2018. With the amendments, in the Clause 14 under the heading "EXAMINATION" of the "Postgraduate Medical Education Regulations, 2000", following shall be substituted as under:-
Obtaining a minimum of 40% marks in each theory paper and not less than 50% cumulatively in all the four papers for degree examinations and three papers in diploma examination. Obtaining of 50% marks in Practical examination shall be mandatory for passing the examination as a whole in the said degree/diploma examination as the case may be.
It is reported that earlier, the council regulations called obtaining a minimum of 50% marks in 'Theory' as well as 'Practical' separately for passing an examination as a whole.
The examination for M.D./ MS, D.M., M.Ch are held at the end of 3rd academic year and for Diploma at the end of 2nd academic year.
[adrotate banner="73"]