MCI cannot suspend practicing doctor without Prior Notice: High Court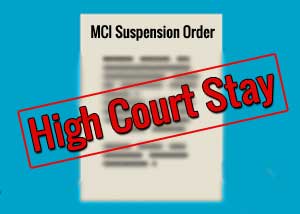 Mumbai: The Bombay High Court stayed an order of the Medical Council of India (MCI) suspending the registration of a city-based doctor, saying the MCI can't pass such strictures without giving prior notice.
The MCI had suspended the registration of senior orthopaedic surgeon Dr M L Saraf on the ground that he was practising medicine without renewing his registration for over two decades.
 Read also: 
Medical Council of India suspends leading Orthopedic Surgeon for practicing without license
A bench of Justices Shantanu Kemkar and Anuja Prabhudessai granted a two-week relief to Dr Saraf of the Bombay Hospital, saying that the MCI "cannot prevent a doctor from practising medicine without issuing a prior notice and supplying him with valid reasons for such a decision."
The bench also directed the appellate authority of the MCI to expeditiously decide upon the doctor's appeal challenging the suspension order.
The bench was hearing Dr Saraf's petition wherein he had termed the suspension order as unjustified and sought it stayed until his appeal was decided upon by the MCI's appellate authority.
Earlier this month, the MCI's executive council had suspended Dr Saraf's registration for five years after it came to light that he had been practising medicine allegedly without having renewed his registration for the last 25 years.
Both the MCI and the Maharashtra Medical Council rules require periodic renewal of registration and the latter mandates that doctors practising modern medicine in the state must renew their medical registration every five years.
Dr Saraf, however, told the HC that when he first registered with the MCI under the Indian Medical Practitioner's Act, he had paid the registration fees for 25 years upfront.
It was the Maharashtra Medical Council's duty to issue notices for renewal of registration every five years, he said.
"The MCI first informed me of the problem with my registration in 2015. However, I received no communication from them (MCI) after that. Then suddenly, on August 25 this year, I was informed that the ethics committee had recommended that my registration be revoked and the same was done earlier this month," he said.
On the other hand, the MCI justified its decision saying it was based on a thorough inquiry.
The bench, however, granted Dr Saraf the relief saying, "A doctor has been stopped from practising without being informed of the reasons. Can the MCI take such a grave decision without providing reasons?"
"As per the principle of natural justice, the MCI is liable to inform the petitioner (Dr Saraf) of the adverse findings against him that led to the decision."
Read also: 
Medical Council of India suspends leading Orthopedic Surgeon for practicing without license