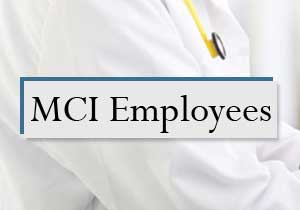 New Delhi: Bringing relief to the employees of the existing Medical Council of India, who were looking at a job loss, post its replacement by the National Medical Commission, the Rajya Sabha Committee looking into the NMC bill has ruled in their favor
Medical Dialogues had earlier reported existing MCI employees were indeed in shock with the provisions of the bill as it stated that employees of the Medical Council Of India shall be immediately terminated with a 3 months severance package, as soon as the National Medical Commission comes into effect. Section 58 deals with the issue of Employees and their termination and clearly stated that The Chairman and other Members and employees of Medical Council of India shall vacate their respective offices and be entitled to the compensation.
Read Also: National Medical Commission will take away our jobs: MCI employees decry to PMO for help
Opposing the said move the MCI employees association had written to even the PMO for help. However, when the bill was referred to the parliamentary committee for examination, MCI employees appeared before the committee asking for respite. The central government on the other hand, clearly stated that adequate compensation will be paid to all such employees as specified in proviso 2, Section 58(3) of the Act. In view of the past legacy of MCI, it will not be advisable to take these employees into the NMC secretariat.
After going through the submissions, the committee ruled in favour of the employees in terms of retention of jobs, but also added that they may be suitably absorbed on compassionate grounds in any Department of the Government, rather their retention at the NMC
The Committee is of the view that this provision of the Bill intends to remove all the employees & staff of MCI after it will be dissolved does not seem to be fair and is against the principles of natural justice. Such a move would mean inhuman treatment meted out to the employees whose services would be terminated once the MCI gets dissolved. The Committee, therefore, recommends that instead of termination of their services, the employees of Group B, C and D category of the council may be suitably absorbed on compassionate grounds in any Department of the Government.
2 comment(s) on MCI employees NOT to lose jobs with coming of National Medical Commission