MCI has failed Indian Healthcare- Niti Ayog calls for Enactment for National Medical Commission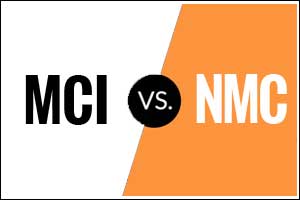 New Delhi:  Observing that regulatory bodies including the Medical Council of India and the Nursing Council of India have "failed" to ensure adequate availability and quality of health professionals, the government think tank- NITI Aayog has pitched for enactment of the National Medical Commission (NMC) Bill, 2017,
In its 'Strategy for New India @75' document released on Wednesday, the Aayog has recommended revamp of the regulatory system of medical and nursing education pointing out the currently -"There is inadequate capacity to train doctors, especially specialists and super-specialists."
"Private practice by medial faculty in teachinginstitutions is rampant in several states,compromising on the commitment to teaching and institutional clinical work. Many state and private medical/nursing/dentalcolleges have poor infrastructure. There is no comprehensive and consistent HRH policy," the document categorically stated
Pointing out that the quality of health professional training and adherence to standards is sub-optimal,including in the private sector, the Aayog stated Workforce shortages and uneven distribution of doctors, nurses, specialists and allied health professionals plague the sector.
The Aayog also alluded to the poor remuneration of government medical practitioners. "Health professionals in the public sector areinadequately compensated and motivation levels are extremely poor. Fair compensation in the private sector, e.g., for nurses, is also a challenge."
Observing these major issues that currently plague the medical sector, the Niti Aayog called for complete reform the governance of medical, nursing, dentistry and pharmacy education in the country with its very first recommendation being the Enactment the NMC Bill, 2017.
It also called for Revamping the AYUSH, nursing, dentistry and pharmacy councils along the lines of the NMCBill, 2017. Some of the other policy level reforms put forward by the Niti Aayog include


Establish a Council for Allied Health Professionals to ensure standardization of education and putting in place quality control mechanisms for educational institutions, teaching methods, clinical protocols andworkforce management.


Put in place an updated curriculum for medical and allied professions that keeps pace with thechanging dynamics of public health, policy anddemographics.


Establish a nursing school in every large district or cluster of districts with a population of20-30 lakhs as per the National Health Policy, 2017.


Take steps to revamp the regulatory system ofnursing education, ensure quality training in nursing schools, develop specialties in nursing,develop centres of excellence in nursing and enhance the stature of government nurses.


Take steps to stop private practice by faculty of government teaching institutions by providing attractive salaries and incentives.


Medical Dialogues team had recently reported that to address the shortage of doctors in the country, the Aayog has suggested creating conditions to facilitate import of doctors, especially those of Indian origin working abroad, and also deploying teachers from universities abroad as visiting professors at AIIMS or NIEs while linking at least 40 per cent of district hospitals with medical colleges.
It also suggested developing framework for deployment of doctors and specialists from the private sector to government hospitals on a visiting or honorary basis and expanding the system of Diplomate of National Board (DNB) and Diplomas from College of Physicians and Surgeons (CPS).
Read Also: 
Import of Doctors, Medical Teachers; Expansion of DNB, CPS: Niti Ayog pitches reforms for healthcare