How Affinity Education gets you cover for MD-MS Admission in 2022?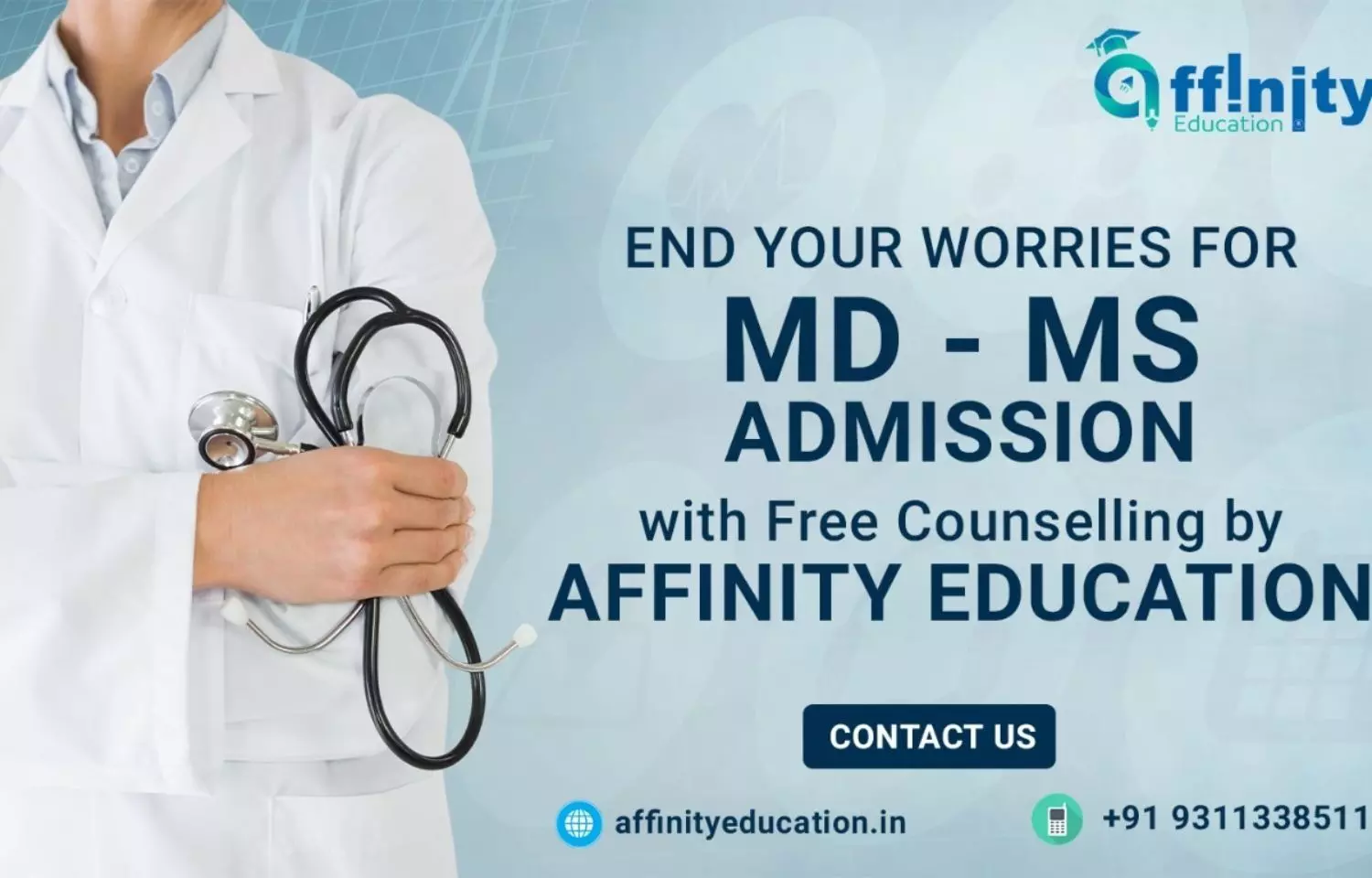 New Delhi: The Medical Counseling Committee (MCC) has released NEET PG 2022 result at nbe.edu.in. The official NEET PG 2022 counseling schedule will be announced at mcc.nic.in very soon. NEET PG 2022 Latest Updates NEET 2022 will be longer-ever NEET as the National Test Agency (NTA) has extended the time duration from it being a three-hour exam to a three-hour 20 minutes test this year....
New Delhi: The Medical Counseling Committee (MCC) has released NEET PG 2022 result at nbe.edu.in. The official NEET PG 2022 counseling schedule will be announced at mcc.nic.in very soon.
NEET PG 2022 Latest Updates
NEET 2022 will be longer-ever NEET as the National Test Agency (NTA) has extended the time duration from it being a three-hour exam to a three-hour 20 minutes test this year. The option of having 20 extra minutes is a game-changer for students.
The NEET PG exam was held on May 21 and the result for the same was declared on June 1, 2022. Over 2.05 lakh candidates appeared in the exam and over 1,04,000 candidates got successful in this exam also the cutoff was revised then again appeared that 20,000 students will be more eligible for counseling. Now they are all set to register for post-graduation counseling.
There are nearly 37,972 seats available for the master course including 12,690 seats for MS, 24,360 seats for MD, and 922 medical seats for PG Diploma.
Is NEET PG a tough game?
This is a tough task for students. Due to a lack of proper information, procedures of different types of counseling, and many things students worry about how to grab all the things. Around 36 sessions take place during MD/MS Admissions, including the counseling of states, UTs, AIQ etc.
Candidates have to register themself separately for every counseling and have to face a few challenges during this process. Every counseling procedure is a little bit diversified for students because in the counseling stage students need to do more research on different websites.
There are lots of challenges faced by students because every counseling process requires so much documentation within a short period. Consequently, students miss their counseling sessions due to lack of documentation.
Apart from that expensive fee of NEET PG, you should have proper knowledge about the counseling process of a particular quota and the latest updates regarding this.
Here are a few major points that you need to consider before proceeding with counseling.
1. Registration Fees- The fee slab for different categories is not the same. For general category candidates, the fee is 1000 INR and for reserved category candidates, it's 500 INR (Under AIQ Counseling). Apart from this, the registration fee for deemed universities is 5000 INR and for state counseling it is between INR 1000 - 5000.
2. Different registration for different counseling sessions- Candidates have to complete a separate registration for state-wise counseling. Also, you have to re-register for the 2nd or Mop-up round of counseling. The last stage of counseling for the Stray-vacancy round.
3. Perfect and Exact knowledge of vacant seats- Candidates should have perfect knowledge about the remaining seats of a particular department after one round of counseling. However, it is quite impossible that one candidate will have detailed information about the vacant medical seats across the country.
In all these situations, candidates need to be experienced counseling support. Students who are unsure of the correct option often consider the help of a consultancy service like Affinity Education. This will help you do so. They will let you know all the information you will need to know.
Why an Education Advisor?
The experiences that one has at a medical college last a lifetime and play a central role in developing individual personality and career prospects. Because this is a choice that one should make with a lot of attention and thinking. Medical education fee in private medical colleges in India is not affordable for common students. It goes over 1 CR, which is not an easy amount to pay.
1. Vital information about the college- You are investing a huge amount of money in a medical college, so you must have to know every detail about the college. Also, colleges must have proper infrastructure for practical training. Every university has its different specialities for study. Some of them are good in dermatology, orthopaedics, and so on. But just think, if you got admission to a reputed private medical college/university, and the department has no suitable arrangements for your training, then it could be the worst decision for you after paying an expensive fee.
2. Teachers and study environment- MD/MS courses are based on practical knowledge. It plays an important role in your medical career in how well you manage the patient flow during your studies. During the pandemic, colleges were running their classes online and candidates did not get a chance to do practical work.
How Does Affinity Education Help for MD/MS/DNB Admissions?
Affinity education is well aware of how stressful this time can be for doctors and strives to ease any issues and concerns to the best of their abilities. They believe in communication and relay all the finer details, like NEET PG fees in India. Because of this, Affinity Education has become a premier option for doctors who wish to take admitted for a NEET PG.
Altogether, Affinity Education for NEET PG in India informs students of every complexity they will want to know to be fully prepared for the admission procedure.
Affinity Education advisors will suggest to you all those colleges, where infrastructure is good and patient flow is frequent, so you could learn whatever you want.
You can avail our Personalized Counseling support services.
A dedicated executive will be allocated to you who will look into everything for you from application to admission. You will get real-time updates via phone call, mail, and Whatsapp.
Here is the list of services we are going to provide you –
● Notification for an Application form, Counselling forms, Counseling dates
● Real-Time Counseling Information & Updates
● Previous Year Cut-offs
● Round-wise Strategy of how to proceed with the counseling
● College Analysis & Comparison
● Complete Choice Filling Support
● Fees Structure Details
● Actual Stipends as per colleges
● Documents Required
● Latest Seat Matrix
● Current Bond Details
● Stray Vacancy/ Mop-up Round details
● Refund Policy and Rules
● Court Cases related to Fee, domicile, and other eligibility criteria, etc if any
Admissions are done only by Central and State Government Counseling based upon your merit and choice options.
Over 1000+ candidates got admission to prestigious colleges in India for Master's studies in medicine with the help of an Affinity Education team they started working. Affinity Education keeps its eyes on the latest updates of counseling and works on war mode for your admissions. For a detailed consultation, reach out with the following contact details.
This article is provided by Vishu Tripathi, Founder & Director of Affinity Education.
Call - +91 93113 38511
Website - https://affinityeducation.in/
Email - info@affinityeducation.in
Disclaimer: The above article is sponsored content provided by Affinity Education under MD Brand Connect Initiative. The Editorial/Content team at Medical Dialogues has not contributed to the writing/editing/packaging of this article.