Start your Medical Journey in Manipal and Become a Practising Doctor in the US, UK, Canada and India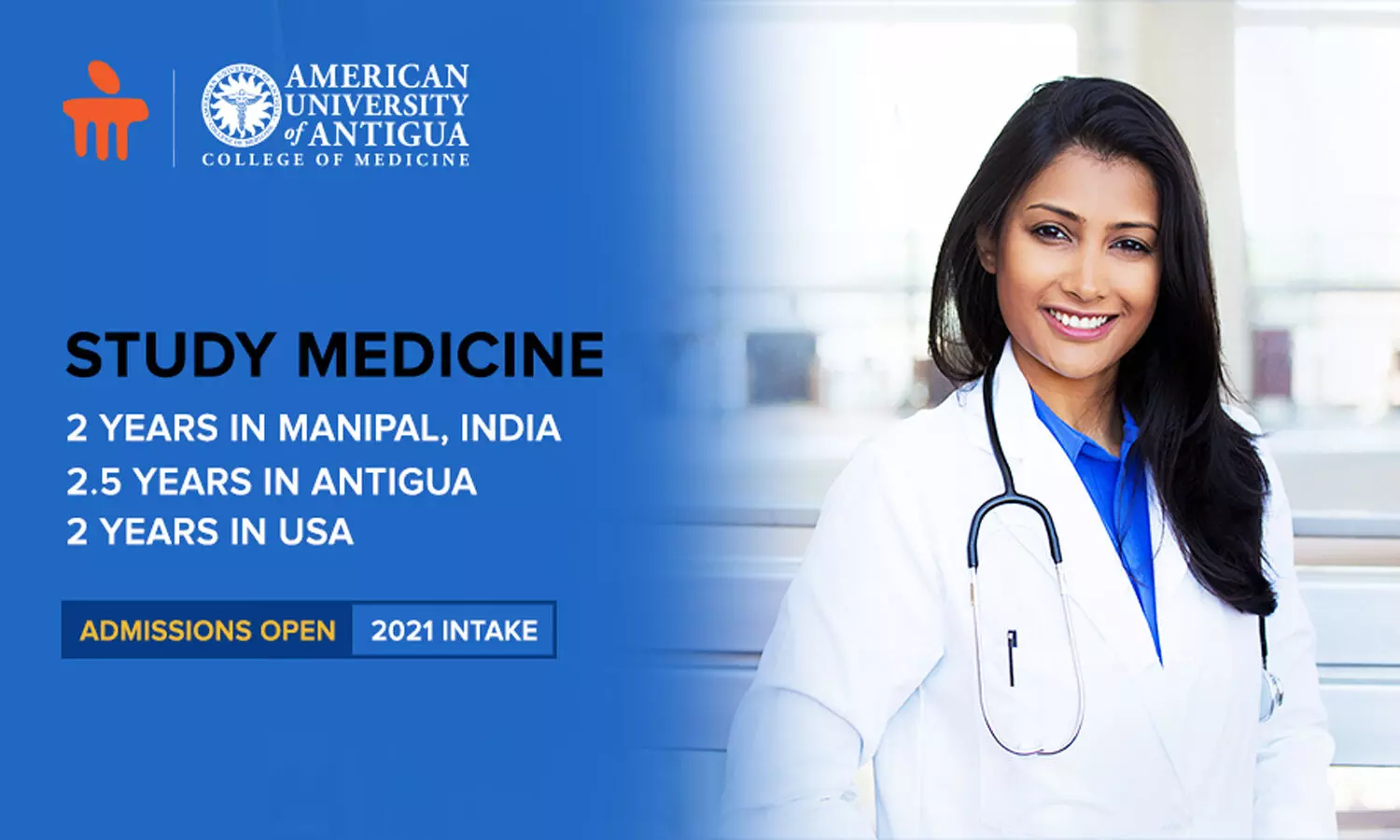 Manipal Group - a 68-year legacy in Medical Education
Manipal Group, which started with the Kasturba Medical College (KMC) in Udupi district in India in 1953, now has a presence in five countries catering to over 4,00,000 students. KMC Manipal is situated within the sprawling 600-acre campus of Manipal Academy of Higher Education (MAHE). The campus at Manipal has a large Health Sciences Library and a Museum of Anatomy and Pathology.
Manipal American University of Antigua College of Medicine
Founded in 2004, Manipal American University of Antigua (AUA) College of Medicine is the perfect choice for Indian students with a passion for medicine.
The 17-acre AUA campus is located right next to the ocean in the picturesque eastern Caribbean country of Antigua and Barbuda. AUA's innovative, learner-centric, and technology-driven curriculum for the MD program, is designed to address the acute shortage of physicians worldwide and especially in the USA. AUA welcomes all international students since one of its goals is to ensure diversity among its students. Since its founding in 2004, AUA has produced more than 3100+ graduates. 40% of the student population are of Indian origin and many Indian alumni are currently in residency or practicing throughout the US, India, Canada, UK, and other countries.
Accreditations and Recognitions
AUA is one of only three medical schools in the Caribbean to gain the distinction of being approved, accepted, recognized, and accredited by a diverse array of international medical education authorities including the U.S. Department of Education, the U.K. General Medical Council, the Caribbean Accreditation Authority for Education in Medicine, and other Health Professions (CAAM-HP), and the National Medical Commission (NMC- formerly known as MCI) of India, among others.
Residency and Clinical Rotations
AUA graduates can apply for medical licensure, enter residency training (graduates are eligible to participate in the National Resident Matching Program (NRMP) and the Canadian Resident Matching Service (CaRMS), and participate in clinical training in teaching hospitals. With a network of 50+ affiliated hospitals across the US, UK, Canada & India, students at AUA have the competitive advantage of acquiring residency placements and clinical experience through clinical rotations in world-renowned medical facilities such as at the Mayo Clinic, Cleveland Clinic, Massachusetts General, Brown University-Rhode Island Hospital, Dartmouth Hitchcock Medical Center, Yale-New Haven Hospital and the University of Toronto, among many other prestigious institutions. Our alumni have distinguished themselves by becoming chief residents, earning significant awards, and obtaining competitive fellowships.
The school's pass rate for the United States Medical Licensing Examination (USMLE) Step 1, the most important licensing exam for medical students in the US, was 96 percent in 2020. Upon passing the necessary licensure exams, AUA graduates are eligible to practice medicine in all 50 U.S. states, Canada, the United Kingdom, India, and worldwide.
Program Overview
AUA offers a six-and-a-half-year Doctor of Medicine MD programme where students can spend the first two years of studies at MAHE, Manipal campus, Karnataka, India, or in American International College of Arts & Sciences (AICASA) Antigua. This is followed by two-and-a-half years of pre-clinical studies at the Antigua campus. The students after that undergo two-year clinical rotations in core and elective subjects in the US, UK, Canada, and India. This holistic mix of academic and experiential learning equips the students to build successful global careers in medicine.
Collaboration with FIU
AUA is the only Caribbean med school to offer unique programs in collaboration with Florida International University (FIU). Students of the Global Health Track program develop expertise in global health issues and distinguish themselves as residency candidates. Through the graduate Clinical Core Rotation Programs, students complete back-to-back rotations at FIU-affiliated clinical sites.
Scholarships

AUA offers scholarships of up to $96,500 for deserving students. "We are happy to see the overwhelming response from Indian students seeking admission into AUA this year. There has been a 25 percent jump in applications from India this year, proving that these talented young minds are ready to put the disruptions of the past year behind them. They are eager to become global doctors and serve their communities, India and the world with compassion and empathy," Ms. Mamta Purbey, Executive Director of Enrolment Management for AUA College of Medicine and American International College of Arts & Sciences (AICASA) said.
Eligibility and Admission process
AUA uses a holistic admissions approach to select students with the potential for medical school success and provides them with the resources they need to obtain highly competitive residencies and move on to successful careers in medicine.
Students with qualified 10+2, A Level or equivalent examination, with PCB securing a minimum of 65% in science subjects can apply online on AUA website with official transcripts/marks card high school (10th & 12th) and statement of purpose. On qualifying, aspirants will be interviewed online by Associate Directors of Admissions.
For further details
E-mail: admissions@auamed.org