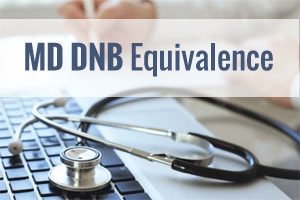 New Delhi: DNB candidates across the country have faced a major setback as the Supreme Court has dismissed the petition filed by Sankalp Association of DNB Doctors, Delhi that demanded equivalence of MD-DNB candidates for the purpose of teaching posts across medical colleges in the country.
Medical Dialogues team had earlier reported DNB candidates had faced a major disadvantage after the MCI notification of June 5, 2017 whereby the Medical Council amended Minimum Qualifications for Teachers in Medical Institutions Regulations, 1998. The amended rules implied that a DNB degree holder from a non-MCI recognized institute shall require 3 years of junior residency and 2 years of Senior residency, to be eligible for a teaching post of assistant professor, implying a clear 5 years of additional service if they dream to have a career in Medical Academia.
Objections were raised to the high degree of discrimination, with DNB candidates under the aegis of Sankalp Association of DNB Doctors filing a writ petition with the Supreme court on the matter. However, as a setback, through a recent decision, the apex court has disposed off the petition stating
We find no ground to entertain this petition filed under Article 32 of the Constitution. The writ petition is dismissed accordingly.
Article 32 of the constitution provides the right to Constitutional remedies which means that a person has right to move to Supreme Court (and high courts also) for getting his fundamental rights protected.
To check out the judgement click on the following link
http://supremecourtofindia.nic.in/supremecourt/2017/32846/32846_2017_Order_02-Feb-2018.pdf
Way Forward?
With the setback received from the court on the writ, a review petition can be filed asking the court to reconsider the matter. On the executive front, Medical Dialogues team had earlier reported that taking Cognisance of the issue of equivalence of the MD- DNB degrees for the purpose of medical academia,  the Health ministry had directed the MCI to amend its TEQ regulations, deleting 3 year junior residency and specifically mentioning DNB along with MD/MS in the academic qualifications for various faculty posts.
Following the same, the MCI referred the matter to its PG committee which recommended the deletion of the 3 year JR ship clause but required DNB candidates to undergo three years residency for faculty posts. The matter is to be placed before the General Body of the Council of the Medical Council of India for finalisation.Having said that, the final call on the issue lies with the Government of India
Read Also: DNB to do 3-year SRship for Teaching posts: Medical Council of India
DNB doctors are now looking forward to the impending National Medical Commission Bill, whereby, DNB qualification has been made completely equivalent to MD/MS in the NMC Act in order to enhance the availability of faculty for medical education
Read Also:  NMC Bill to establish MD- DNB equivalence: Health Ministry
49 comment(s) on MD-DNB equivalence: Setback to DNB candidates as Supreme court dismisses petition