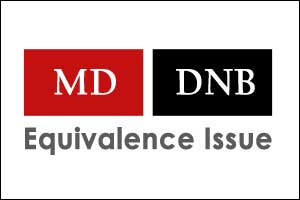 New Delhi: Diplomate in National Board in broad as well as Super-specialities may have to undergo three years residency to be eligible for teaching posts in the country, as the Medical council of India committee on Post graduate Medical Education has made a recommendation towards this effect.
These new MCI committee recommendations call for removing the clause of 3 year junior residency for such candidates, yet add another year of senior residency for them making the required number as three years rather than earlier proposed two.
Developments till now
Medical Dialogues was the first to report that through a gazette notification dated June 5, 2017, MCI was seen amending Minimum Qualifications for Teachers in Medical Institutions Regulations, that defined the new rules on the eligibility as well as promotion of medical college teachers
The amendments spelt difficulties for the DNB pass outs as with the said amendments,  a DNB degree holder from a non-MCI recognised institute would have to undergo 3 years of junior residency and 2 years of Senior residency, to be eligible for a teaching post of assistant professor, implying a clear 5 years of additional service if they dream to have a career in Medical Academia.
Read Also : MCI knocks DNBs out of academia
The developments created hue and cry amoung medical fraternity with the disadvantaged DNB candidates demanding equivalence to MD/MS degrees.
Read Also: MCI agreed to MD-DNB equivalence before amending Medical Teachers Eligibility Qualifications: Records
The National Board of Examinations also wrote to the PMO as well as the health Ministry, which recommended the MCI to amend its TEQ regulations, deleting 3 year junior residency and specifically mentioning DNB along with MD/MS in the academic qualifications for various faculty posts.
Read Also : Health Ministry tells MCI to establish MD-DNB equivalence, delete 3year JR-ship
WHAT NOW??
Following the directions from the Health Ministry, the matter with regard to Eligibility of DNB doctors for teaching post in Medical Colleges was discussed in Oversight Committee Meeting in the office of Director AIIMS New Delhi between office bearers/ officials of MCI and Supreme Court mandated oversight committee. held on 27.09.2017. The minutes of the same were considered by the MCI Postgraduate Committee in its last meeting which observed
From the minutes it appears that the oversight committee wants that candidates passing DNB from non- teaching hospitals should have some hands on practical experience to come at par with those trained in teaching institutions but at the same time they may be asked to work at a level higher than junior resident.
The PG committee also discussed the latest amendment dated 05/06/2017 in minimum qualification of teachers in medical institutions regulations 1998  and resolved the following recommendations
1.Those candidates who pass DNB(broad as well as super-speciality courses) from non-teaching institutions be required to work as senior resident for three years in a teaching institution in the department concerned for appointment to the post of Assistant Professor.
2. They may be considered eligible for appointment to the post of senior resident immediately after passing DNB without asking them to do 3 years junior residency before appointing them as senior resident.
Interpretation
The recommendations indeed bring a sense of relief for many candidates as it removes the three year JR ship for DNB students. However, compared to the previous amendments, a DNB passout from a non teaching medical college  will now have to undergo three years of Senior Residency instead of earlier proposed two years in order to enter medical academia with the post of Assistant Professor.
The matter be placed before the General Body of the Council of the Medical Council of India for finalisation. Having said that, the final call on the issue lies with the government of India
73 comment(s) on DNB to do 3 year SRship for Teaching posts: Medical Council of India