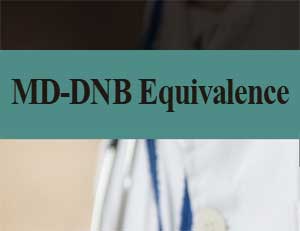 New Delhi: Taking Cognisance of the issue of equivalence of the MD- DNB degrees for the purpose of medical academia,  the Health ministry has now  directed the MCI to amend its TEQ regulations, deleting 3 year junior residency and specifically mentioning DNB along with MD/MS in the academic qualifications for various faculty posts.
Medical Dialogues team was the first to report that MCI with its amendment of Teachers Eligibility qualifications (TEQ) regulations had spelt major difficulties for candidates who pass out their DNBs from institutes that are not MCI recognised medical colleges ( namely the large hospitals which offer DNB courses). With the said amendment, ,a DNB degree holder from a non-MCI recognised institute would require 3 years of junior residency and 2 years of Senior residency, to be eligible for a teaching post of assistant professor, implying a clear 5 years of additional service if they dream to have a career in Medical Academia.
Read more at Medical Dialogues: MCI knocks DNBs out of academia 
The move created ripples in the Medical Profession who criticised the  move stating that on one hand, to meet the acute shortage of faculty the government is considering increasing the retirement age of medical faculty from 70 to 75 years and has also revised the faculty student ratio in medical colleges, yet it is imposing restrictions and limitations on an army of readily available qualified physicians that can possibly join medical academia and ease pressure on the medical education system
The move caused the NBE officials rush to the health ministry as well as PMO in order to seek relief. Medical Dialogues with the access of the records of health ministry on the issue reported that records clearly showed that the matter of MD-DNB equivalence was raised by the ministry before the approval and in the meeting dated 26/05/2017,  all parties concerned including the council agreed on DNB equivalence as per the notification dated 30/06/2012 and only after that acceptance was given and approval was sanctioned amendment to TEQ rules. This was followed by hordes of DNB candidates, furiously writing to the health ministry, NBE as well as others concerned seeking relief in the matter.
Read more at Medical Dialogues: MCI agreed to MD-DNB equivalence before amending Medical Teachers Eligibility Qualifications: Records 
Now, a clarification has been issued by Shri Amit Biswas, Under Secretary to the Govt of India, who has acknowledged that the issue of DNB qualification and its equivalence was received in the Health Ministry through no other than Prime Minister Office.
The clarification  further goes on take to take cognisance that vide the amendment notification dated 05/06/2017 in the TEQ regulations, the conditions of 3 year experience as Junior resident in recognised medical college in the concerned subject as a prior requirement for the post of Assistant professor has been included.
Defining its stand on the amendments, the Health ministry informed that it has asked the MCI to remove the three year JR requirement and also deal with the issue of DNB- MD equivalence
"A DO dates 27/07/2017 from Joint Secretary has been issued requesting MCI to provide this Ministry an amendment proposal in TEQ regulations deleting 3 year junior residency and specifically mention DNB along with MD/MS in the academic qualifications for various faculty posts. The matter is being pursued by with MCI and a decision will be taken on receipt of their recommendation."
Speaking to Medical Dialogues team, Dr Alexander Thomas, President Association National Board Accredited Institutions (ANBAI) said, " Over the last few months there has been considerable concern and anxiety among the NBE specialist community in the Country. This has resulted from a few Government notifications which caused confusion regarding parity of MCI and NBE degrees. ANBAI and NBE followed this matter with the Ministry and were assured that the GO of 2012 was the law of the land.The matter was also followed with the PMO."
32 comment(s) on Health Ministry tells MCI to establish MD-DNB equivalence, delete 3year JR-ship