Medical College Dean Suspended on grounds of Misleading Govt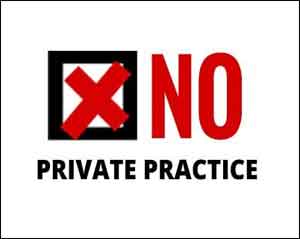 Mumbai:
Authorities at the Medical Education Department recently suspended the acting dean of the government-run Kolhapur Medical College on grounds of providing misleading information to the government. This comes in follow-up to the case where certain medical teachers of the college were found rampantly engaging in private practice
Medical Dialogues team earlier reported that the Medical Education Department, Maharashtra on a
tip-off
visited various private hospitals in the area using fake names and found 6 medical teachers attached to Kolhapur Medical College practising in private hospitals during their duty hours. Taking action on the matter, the department has issued a show-cause notice to the dean and was considering the deregistration of the teachers.
"Our contention is that while more than half a dozen doctors were not available in the college and were involved in private practice, the dean was in the dark. Further, the dean submitted that no teacher is involved in private practice. We have submitted all relevant documents to him," a senior official at Medical Education Department had stated
Read also: Private Practice Hits Hard: 6 Medical Teachers May Lose Registration
However, despite the notice being sent weeks ago, since the acting dean didn't reply to the notice, he was relieved of his duties, a senior bureaucrat informed TOI.
"Despite the fact many medical teachers were involved in private practice, the dean said no teacher was indulging in it. Prima facie, it appears that the dean has given misleading information,'' a bureaucrat confirmed while talking to
TOI
.
When asked if any action would be taken against the teachers who were found indulging in private practice, the bureaucrat informed the daily that the director of medical education has been asked to complete the procedure for cancellation of registration of the six teachers.
It has been proposed to launch a drive against erring medical teachers, the official further added.
As per the information, the senior-most Professor Raghu Thorat has been given the additional charge.