Medical Council suspends Maharashtra Pathologist for Allegedly Selling Signatures to far off labs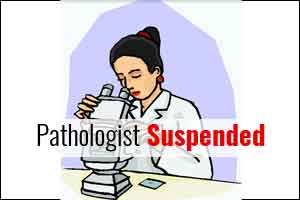 His name is seen in reports from more than 200 laboratories in adjacent districts, alleged the MAPPM officials
Mumbai: Ruling it "unethical" that the pathologist was lending his name and registration number to over 200 laboratories across the state, where his personal supervision was 'physically impossible', the Maharashtra Medical Council (MMC) has barred the doctor from practising for a period of six months.
Confirming the suspension, MMC Registrar, Sanjay Deshmukh told the media, "Professional misconduct is clearly established against Dr Pravin Shinde. After a detailed deliberation and decision made in a meeting on March 3, 2018, it was decided to cancel his registration for six months and refrain him from medical practice." The suspension order was recently released on August 3.
This isn't the first suspension that the doctor has faced on these same counts. In March 2016, four pathologists including Dr Shinde were suspended for giving their signatures to the pathology reports without duly verifying the same. In response, these doctors approached the high court who then directed the medical council to conduct a fresh inquiry.
Read Also: 4 pathologists suspended for signing unverified reports
The doctor has been suspended after a two-year investigation, following the complaint filed by Maharashtra Association of Practising Pathologists and Microbiologists (MAPPM) five years ago.
According to MMC, Dr Shinde's association with labs spread across the "length and breadth of Karjat, Roha, Panvel, and Nalasopara, Vasai and Virar" only underlined that reports carried his name and signature without his presence or supervision. Several reports had only his name, not even registration number, which is in fact, a violation of norms. In some lab reports, his digital signature appeared.
Senior MMC officials told HT that the said Navi Mumbai-based pathologist had "failed to maintain the dignity of the profession, failed to mention his registration number on the reports and allowed his associates to misuse or permit them to issue reports on his behalf". The said doctor has also been accused of being involved in the functioning of unlicensed laboratories across Maharashtra, with the help of other clinicians, technicians and pathologists, adds the daily.
"He was lending his digital signatures to multiple laboratories, without visiting them. The reports signed in his absence were given to patients. Despite running his own laboratory—Metro Care Pathological Laboratory in Navi Mumbai — his name is seen in reports from more than 200 laboratories in adjacent districts,"  Dr Rajesh Panjabrao Mane, the MAPP Joint Secretary who filed the complaint on June 2013, stated
"(Dr Shinde's) labs stretched from Kharghar to Virar. How is it humanly possible for a doctor to be present at all these places?" said MAPPM president Dr Sandeep Yadav.
Rebutting the said allegations, the doctor said that he would appeal against the MMC's decision in the Bombay high court within the stipulated 60-day period, only after which the punishment will come into effect.
Dr Shinde stated that his supposed tie-up with these labs was conjured up by MAPPM. "Could the association give any proof to back their allegations? The law allows us to work with multiple places as we can analyse 10 test reports in 20-25 minutes," he told TOI.
"I run a central laboratory in Thane and several centres send their samples here for testing. Even big corporate diagnostic chains process thousands of samples at night without any pathologist. How is that legal?"
"By passing this order, MMC is violating the court order because, neither the inquiry nor the order was in accordance with the law," the doctor claimed. MAPP has fabricated the evidence and in both the HC and MMC hearings. If I was guilty, the HC wouldn't have impugned MMC's original order in 2016," he said.
Read Also: Pathologist suspended for Selling Signatures: Delhi Medical Council