Medical Student Dies in Accident: Police inturn gets violent on fellow medical students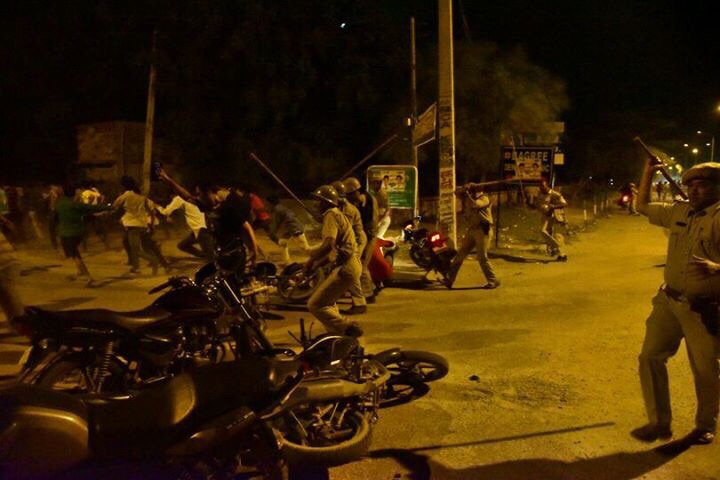 Bikaner, Rajasthan : In an unfortunate incident in Bikaner, two medical students on scooty were hit by an unidentified vehicle  when they were on their way to their hostel in Jainarayan Vyas colony, in Bikaner.

The two students, identified as Neha Garg and Akanksha Arya, were rushed to the PBM government hospital where Neha Garg, a first year MBBS student, was declared dead. Akanksha on the other hand has sustained ther sustain serve head and pelvic injury and has been now referred to SMS jaipur.

As reported by one of the fellow students, they went to police station to register FIR so that culprit can be caught but police asked for letter from college about the incident before the can lodge an FIR. Students, almost 70% girls started agitation against police incompetency for which the police did lathi charge on the girls.  As per the medical student, No woman constable were present at that time when male police officers were hitting the woman.

Further accounts by the doctors says that police came to PBM hospital where the girl were receiving treatment started, beating students which had gathered on hearing the news of the accident.

According to the police authorities, mild force was used to maintain law and order of the revolting students.  As per the doctors, however,  no procession was being carried out at the hospital when the police started hitting the students. In the mist of this Dr. BK Dinarawa, HOD physiology of the same hospital was also beaten up by the police as he had gone there to enquire about the health of the two victims. 35- 40 students arrested and were released on request by the principle next morning.

With the principal of SP Medical College, R A Bam,  filing the complaint, FIR was lodged. Police has manage to take action since. Two vehicles have been identified and one driver (accused) , by the name of Dinesh Vishnoi has been arrested. Investigation is still on. According to the eye witnesses, the vehicle in question was being used for canvassing in student union elections.