Factors That Can Help in Diagnosis of Giant Cell Arteritis, finds JAMA study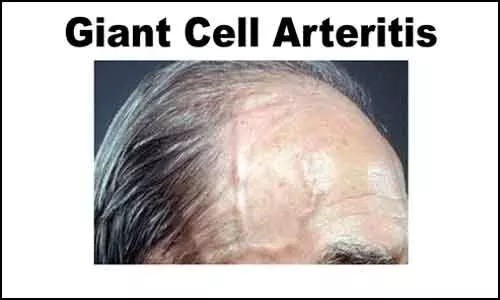 A meta-analysis study has identified and ranked the risk factors that determine the chances of giant cell arteritis (GCA) and can lead to an accurate diagnosis — or lower suspicion of the condition.

The analysis appeared in JAMA Internal Medicine.
Making a diagnosis of GCA can be challenging. Prompt diagnosis can avert visual loss. Diagnosis can be delayed in those without the classic cranial features, such as headaches.Current clinical guidelines recommend selecting diagnostic tests for giant cell arteritis (GCA) based on pretest probability that the disease is present, but how pretest probability should be estimated remains unclear.
Researchers undertook the study to evaluate the diagnostic accuracy of symptoms, physical signs, and laboratory tests for suspected GCA.
Data Sources were taken from PubMed, EMBASE, and the Cochrane Database of Systematic Reviews were searched from November 1940 through April 5, 2020, with observational studies describing patients with suspected GCA.
On analysis of 70 studies encompassing over 14,000 patients with suspected GCA, the findings with positive likelihood ratios rated as significant included-
limb claudication (6.0);
jaw claudication (4.9);
temporal artery thickening on biopsy (4.7) or loss of pulse (3.3);
platelet counts above 400,000 per microliter (3.8);
temporal tenderness (3.1); and
erythrocyte sedimentation rates above 100 mm/h (3.1).
Suspicion-lowering findings included -
the absence of sedimentation rates above 40;
absence of C-reactive protein levels of 2.5 mg/dL or higher; and
age under 70.
These findings suggest that in patients with suspected giant cell arteritis, no single clinical or laboratory feature is sufficient to rule in or rule out the disease; therefore, additional investigations (vascular imaging and/or temporal artery biopsy) are required.
This study identifies the clinical and laboratory features that are most informative for a diagnosis of GCA, although no single feature was strong enough to confirm or refute the diagnosis if taken alone. Combinations of these symptoms might help direct further investigation, such as vascular imaging, temporal artery biopsy, or seeking evaluation for alternative diagnoses.
A commentator affirms that there is no "gold standard" test for the condition, observing, "When there is no gold, clinicians engage in alchemy. That alchemy is the clinical diagnosis."
Primary source: JAMA Internal Medicine
For the full article click on the link: 10.1001/jamainternmed.2020.3050
Source : JAMA Internal Medicine