Human body temperature is decreasing from standard 98.6°F, suggests Stanford study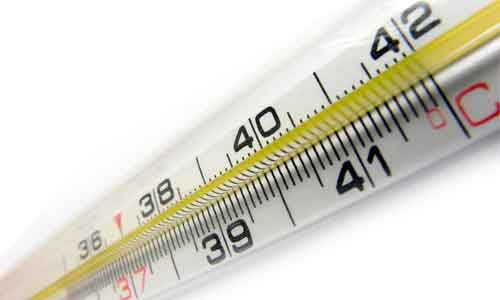 USA: A recent study in the journal eLife has suggested that the average human body temperature in the US has decreased since the 1800s.
The standard of 98.6 degrees Fahrenheit was established by German physician Carl Reinhold August Wunderlich in 1851. Recent studies have indicated the temperature to be too high -- research on 35,000 British people found the average body temperature to be 97.9°F.
The present study found that temperature changes since 1851 reflect a historical pattern instead of an error. They contend the decrease is the result of environmental changes over the past 200 years that have affected human physiology.
"Human body temperature is a crude surrogate for a basal metabolic rate which, in turn, has been linked to both longevity (higher metabolic rate, shorter life span) and body size (lower metabolism, greater body mass)," wrote the authors. "Change in body temperature over time provides important physiologic clues to alterations in human health and longevity since the Industrial Revolution."
Julie Parsonnet, Stanford University, School of Medicine, Stanford, United States, and colleagues postulated that body temperature has decreased over time. The researchers determined mean body temperature in men and women after adjusting for age, height, weight and, in some models date and time of day by using measurements from three cohorts -- the Union Army Veterans of the Civil War (N = 23,710; measurement years 1860–1940), the National Health and Nutrition Examination Survey I (N = 15,301; 1971–1975), and the Stanford Translational Research Integrated Database Environment (N = 150,280; 2007–2017).
They found that body temperature has decreased monotonically by 0.03°C per birth decade.
Key findings include:
The model confirmed body temperature trends that were known from previous studies, including increased body temperature in younger people, in women, in larger bodies and at later times of the day.
The body temperature of men born in the 2000s is on average 1.06 F lower than that of men born in the early 1800s. Similarly, they observed that the body temperature of women born in the 2000s is on average 0.58 F lower than that of women born in the 1890s. These calculations correspond to a decrease in body temperature of 0.05 F every decade.
To assess whether temperatures truly decreased, the researchers checked for body temperature trends within each dataset; for each historical group, they expected that measurements would be taken with similar thermometers. Within the veteran's dataset, they observed a similar decrease for each decade, consistent with observations made using the combined data.
Why Cooler Body Temperature? Researcher Explain
The decrease in average body temperature in the US could be due to a reduction in metabolic rate, or the amount of energy being used. The authors hypothesize that this reduction may be due to a population-wide decline in inflammation: "Inflammation produces all sorts of proteins and cytokines that rev up your metabolism and raise your temperature," Parsonnet said.
Public health has improved dramatically in the past 200 years due to advances in medical treatments, better hygiene, greater availability of food and improved standards of living. The authors also hypothesize that comfortable lives at constant ambient temperatures contribute to a lower metabolic rate. Homes in the 19th century had irregular heating and no cooling; today, central heating and air conditioning are commonplace. A more constant environment removes a need to expend energy to maintain constant body temperature.
"Physiologically, we're just different from what we were in the past," Parsonnet said. "The environment that we're living in has changed, including the temperature in our homes, our contact with microorganisms and the food that we have access to. All these things mean that although we think of human beings as if we're monomorphic and have been the same for all of human evolution, we're not the same. We're actually changing physiologically."
The study, "Decreasing human body temperature in the United States since the industrial revolution," is published in the journal eLife.
For more details click on the link: DOI: 10.7554/eLife.49555