When to Start Tocilizumab in Moderate to Severe COVID 19 Patients?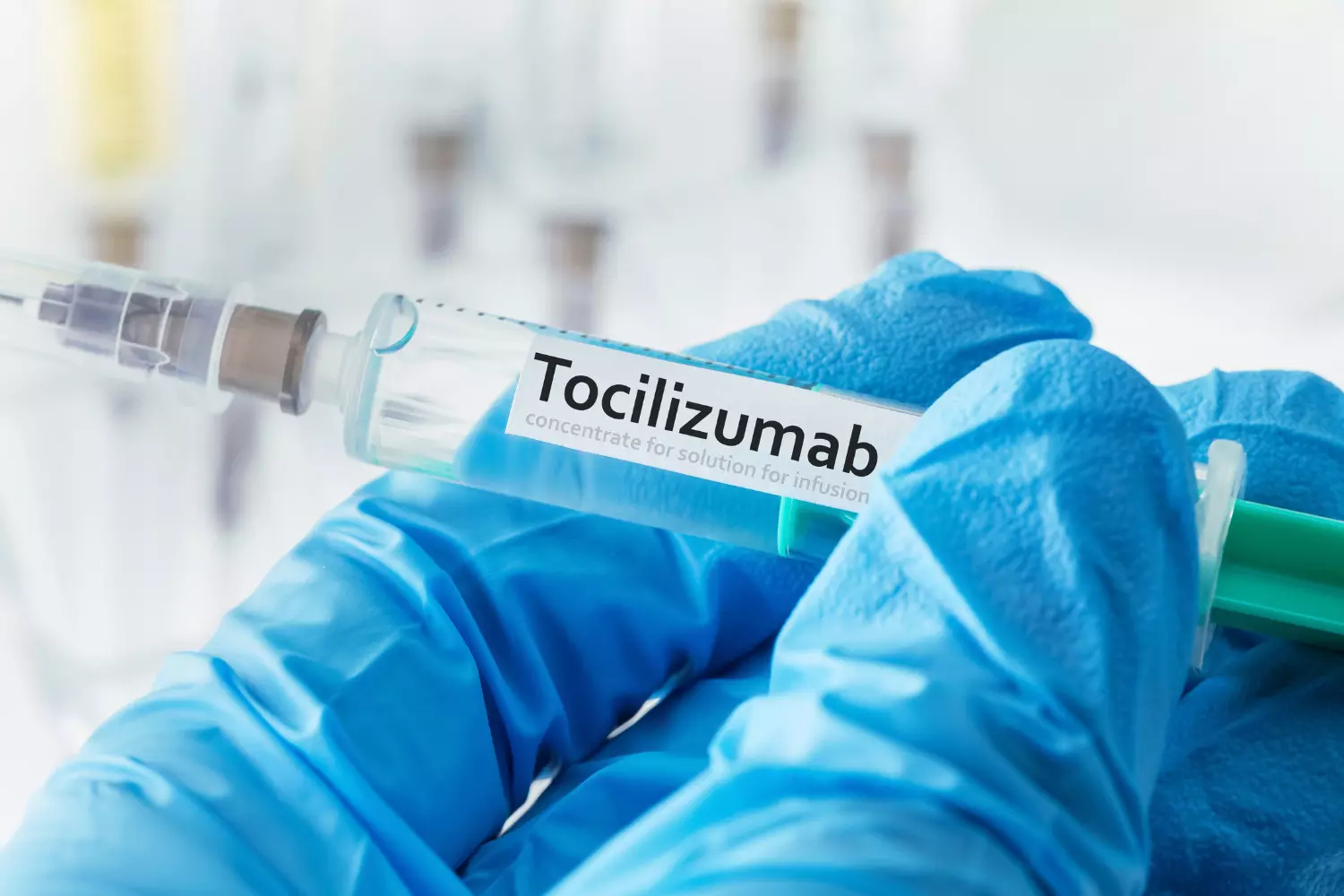 Tocilizumab is a recombinant humanised monoclonal antibody of the IgG1 class, which is directed against both the soluble and membrane-bound forms of the interleukin-6 (IL-6) receptor. Studies have demonstrated a mortality benefit with tocilizumab. In a recent study, researchers reported that the ideal time to give tocilizumab is when the patient is on non-rebreather mask (NRBM) support. The study findings were published in the Journal of the Association of Physicians of India on December 01, 2021.
No therapy has been approved for COVID-19 pneumonia, but current clinical approaches consider the combination of antiviral drugs and immunomodulatory drugs. Studies have shown markedly elevated inflammatory markers (eg Neutrophil to lymphocyte ratio, Ferritin, C reactive protein, D-dimer ) and elevated proinflammatory cytokines (IL-6) are associated with poorer outcomes. Tocilizumab, an IL-6 receptor blocker, blocks the inflammatory response in cytokine storm syndrome. However, timing to give tocilizumab is important as it affects the outcome considerably. Dr Vaishnavi M Rathod and her team conducted a study to determine the effectiveness of tocilizumab as adjuvant therapy in moderate to severe covid-19 pneumonia patients.

In a retrospective observational study, the researchers included 80 moderate to severe COVID-19 positive patients requiring hospitalisation in whom tocilizumab (8mg/kg to a maximum dose of 800mg) was given. They evaluated the presenting complaints, history of any illness, drug history, vitals and physical examination, investigations, treatment in relation to the use of tocilizumab. The researchers correlated the outcome in the form of discharge or death with the help of parameters likes: Time to clinical improvement, ventilator-free days, duration of ICU stay, time to clinical failure, and time to hospital discharge.
Key findings of the study:
Among 80 patients, 35 were discharged and, 55 died.
The researchers found that, among 35 patients who recovered, mean time to clinical improvement was average 6.9 days, mean duration of ICU stay was 13.42 days, mean ventilator-free days was 12.22 days, mean time to hospital discharge was 16.4 days.
They observed that even after giving tocilizumab mortality was higher in patients above 60 years of age, two or more co-morbidities, SpO2 of less than 85% on the room air, SOFA scoring of more than or equal to 3, radiological involvement of more than 2 zones, higher score (>3) of inflammatory markers, higher level of the mode of respiratory support like BiPAP or invasive ventilation.
They found no difference in outcome in patients of either gender, blood pressure and on admission blood sugar levels, and co-administration of injection Ramdesivir.
The authors wrote, "This shows that the ideal time to give tocilizumab is when the patient is on NRBM support. By this, it gives the maximum benefit… Patients who received tocilizumab along with Remdesivir do not offer any advantage over mortality."
For further information:
Minal Shastri, Vaishnavi M Rathod et al, Adjuvant Tocilizumab in the Treatment of Patients with Moderate to Severe COVID-19 Pneumonia: An Observational Study; Journal of the Association of Physicians of India 2021;
ISSN 0004 - 5772
.
Article Source :
Journal of the Association of Physicians of India