Choice of Antibiotics in Common Infections: Doxycycline or Azithromycin?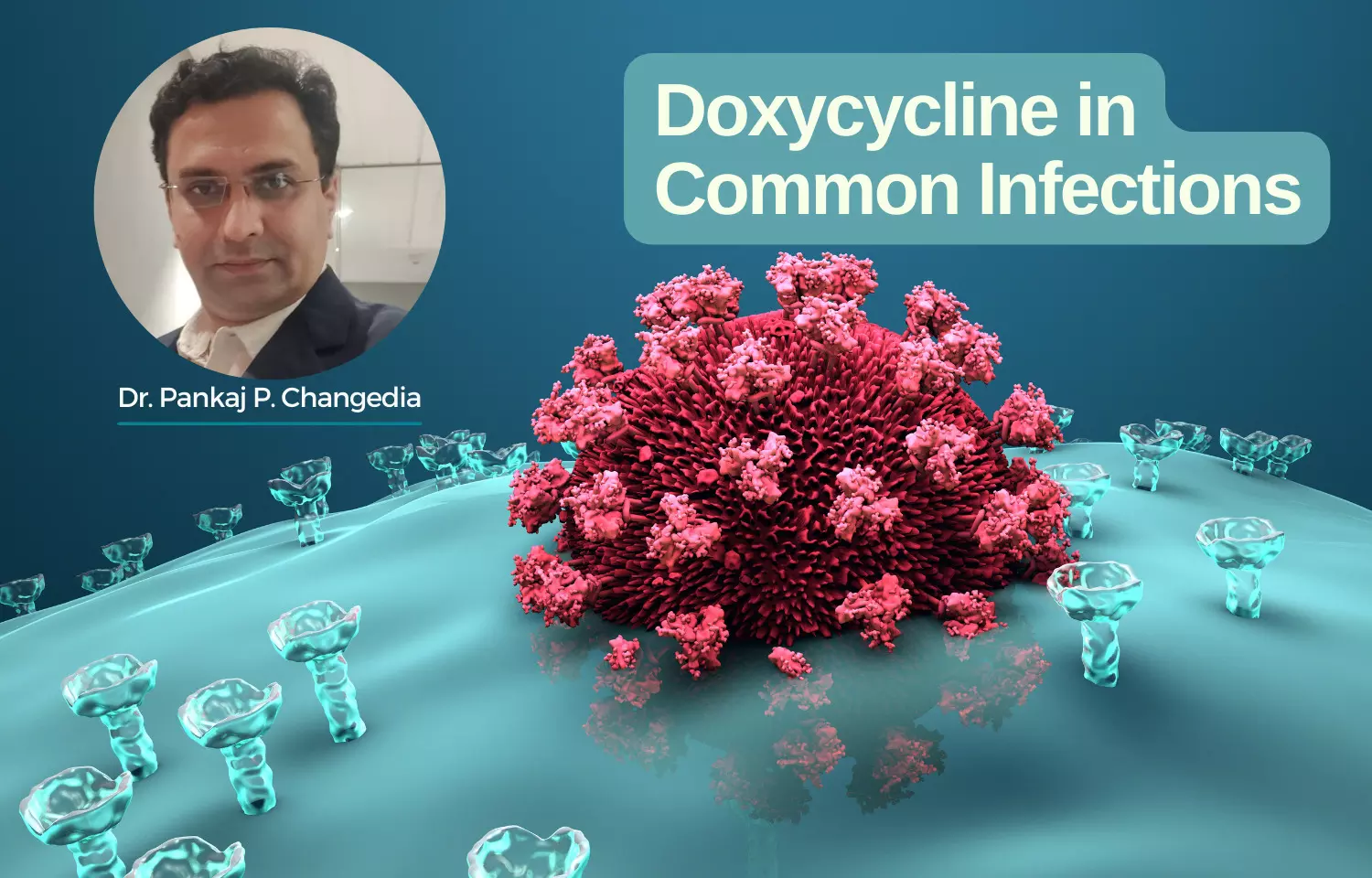 Ever since the introduction of antimicrobial agents, there has been an association between antibiotic use and the development of antimicrobial resistance. Antibiotic therapy destroys not only pathogenic organisms but also the protective normal flora. (1) Antibiotics have transformed medicine and saved a huge number of lives but, the quick emergence of resistant bacteria is jeopardizing the viability of antibiotics. Appropriate choice of antibiotics where the objective is to provide optimal patient care while seeking to minimize the emergence and spread of antibiotic resistance is greatly needed. (2)
This article will give an insight into the two most commonly prescribed antibiotics; azithromycin and doxycycline, which belong to macrolide and tetracycline groups of antibiotics respectively, and how doxycycline scores over azithromycin.
Doxycycline is a semisynthetic, broad-spectrum, bacteriostatic antibiotic that belongs to the tetracycline family (3). It is generally indicated for the treatment of various gram-positive and gram-negative bacterial and protozoal infections (3,4). Azithromycin is a semi-synthetic, macrolide antibiotic, used to treat bacterial infections caused by susceptible strains. These act by inhibiting bacterial growth (5).
Pharmacokinetics:
Doxycycline is readily and almost completely absorbed from the Gastrointestinal tract. It is bound to plasma proteins and has a half-life of 20 hours. It is lipid-soluble and the liver, kidneys, and digestive tract show the highest concentrations. (6)
Azithromycin has a bioavailability of approximately 37%. Following a single oral 500 mg dose, peak plasma concentrations of about 0.35-0.45 mg/l are attained within approximately 2 hours. These low plasma concentrations are the consequence of extensive and rapid distribution from plasma to tissues. Azithromycin is mainly eliminated unchanged in the feces via biliary excretion and trans-intestinal secretion. Urinary excretion is a minor elimination route: about 6% of an oral dose and 12% of an intravenous dose are recovered unchanged in the urine. The mean terminal elimination half-life of azithromycin is 2 to 4 days. (7)
Several important factors can be included in the comparison of the two antibiotics in terms of their efficacy and safety which are as follows:

AWaRe (ACCESS, WATCH, RESERVE) classification by World Health Organization (WHO)
WHO AWaRe classification of antibiotics was developed based on the recommendations of the WHO expert committee on the selection and use of essential medicines. The main emphasis was to classify the antibiotics for appropriate use, reduce the incidence of antimicrobial resistance, and assist in antibiotic stewardship efforts at local, national, and global levels. (8)
Doxycycline is categorized under the ACCESS (J01AA02) category by the WHO. The Access group of antibiotics indicates that these are the recommended antibiotics as the essential first or second choice empiric treatment option for various infections. The access group includes antibiotics having activity against a larger range of common susceptible pathogens at the same time exhibiting lower resistance potential than antibiotics from other groups (8).
Azithromycin is categorized under the WATCH (J01FA10) category by the WHO. The Watch group indicates antibiotics that have higher resistance potential and are at higher risk of bacterial resistance selection. These are generally prescribed as essential first or second-choice empiric treatments for a limited number of specific infectious syndromes (8).
Antibiotic Resistance
Doxycycline and other tetracyclines have been in use for a very long time. The antibiotic resistance hurdle among tetracyclines has been addressed by the production of semisynthetic derivatives with improved antibacterial potency, spectrum, resistance coverage, solubility, and/or oral bioavailability. Doxycycline is one of the best examples of the most successful modifications (9).
A study was conducted on Azithromycin called the MORDOR trial where mass distribution of Azithromycin was associated with an increase in macrolide and non-macrolide resistance genes. This placebo-controlled, community-randomized trial in Niger was conducted and 3232 samples were collected over a period of 48 months where Azithromycin was used to reduce childhood mortality. 504 samples that received Azithromycin were analyzed. Determinants of macrolide resistance were higher in the azithromycin group than in the placebo group: 7.4 times as high at 36 months and 7.5 times as high at 48 months which is suggestive of the cumulative effect of Azithromycin on the collective gut microbiome of a community (10).
Cardiac Safety
Cerisano et al in their recent clinical trials found that for patients with acute ST-segment elevation myocardial infarction (STEMI) and Left Ventricular (LV) dysfunction, doxycycline is effective in reducing the adverse LV remodeling for comparable definite myocardial infarct size. They conducted an open-label, randomized, phase II trial. After the primary percutaneous coronary intervention, in patients with STEMI and LV ejection fraction,40% were randomly assigned to doxycycline (100 mg b.i.d. for 7 days) in addition to standard therapy, or to standard care. They concluded that short-term treatment with doxycycline significantly reduced LV remodeling (11).
A population-based cohort study was carried out in which 65 years or older hospitalized patients with pneumonia were included. Of 73 690 patients, 31 863 patients were exposed to azithromycin and the remaining were not. It was found that there were significantly increased odds of myocardial infarction (5.1% vs 4.4%) Among older patients hospitalized with pneumonia, a treatment that included azithromycin was associated with a lower risk of 90-day mortality and a smaller increased risk of myocardial infarction (12).
Renal Safety

Doxycycline is largely eliminated by non-renal mechanisms and only 30-40% by kidneys. In cases of renal failure, a decrease in the fraction of doxycycline bound to renal proteins and erythrocytes occurs with a compensatory increase in non-renal clearance of the drug. Also, a catabolic state is not induced by doxycycline in patients with chronic renal failure and hence can be safely administered in patients with renal failure (6).
Azithromycin as well is considered a safe drug. However, azithromycin-induced Acute Kidney Injury (AKI) was reported in a clinical case report. Drug-induced AKI is a common phenomenon of Adverse Drug Reaction (ADR), but azithromycin-induced AKI is a rare event and caution should be taken in use. (13)
COVID-19
A recent review by Ali et al comparing the potential role of Doxycycline and Azithromycin in COVID-19 concluded that Azithromycin posed the problem of cardiac toxicity while Doxycycline had a safe cardiac profile apart from its potential antiviral and immunomodulatory effect. (14)
With its broad range of activity, Doxycycline was found to be a better alternative for major antibiotics like azithromycin, cefuroxime, and amoxicillin against gram-positive cocci. A non-interventional retrospective study showed the highest percentage susceptibility (93.1%) of collective bacterial isolates to doxycycline in all the specimens collected. 93.5% of the samples resistant to azithromycin were also susceptible to Doxycycline (4).
With its myriad clinical uses, Doxycycline has been the antibiotic armament for clinicians across the world.
Key Highlights
The rapid emergence of antimicrobial resistance is compromising the efficacy of antibiotics.
Doxycycline and Azithromycin are semi-synthetic antibiotics and categorized in ACCESS and WATCH groups respectively by the WHO.
Doxycycline is one of the best examples of the most successful modifications in terms of resistance hurdles.
Short-term treatment with doxycycline significantly reduces left ventricular (LV) remodeling
Doxycycline is largely eliminated by non-renal mechanisms and only 30-40% by kidneys and can be safely administered in patients with renal failure.
The anti-viral, immune-modulatory, and anti-inflammatory effects of Doxycycline made it a better choice than Azithromycin in COVID-19 infections.
The above article has been published by Medical Dialogues under the MD Brand Connect Initiative. For more details on Doxycycline click here.
References:

1. Colgan, R., & Powers, J. H. (2001). Appropriate antimicrobial prescribing: approaches that limit antibiotic resistance. American family physician, 64(6), 999–1004.
2. Ventola CL. The antibiotic resistance crisis: part 1: causes and threats. P T. 2015;40(4):277-283.
3. National Center for Biotechnology Information. PubChem Compound Summary for CID 54671203, Doxycycline. https://pubchem.ncbi.nlm.nih.gov/compound/Doxycycline. Accessed Apr. 11, 2022.
4. Swaminathan S, Immanuel G, Arora S, et al. Susceptibility Pattern of Doxycycline in Comparison to Azithromycin, Cefuroxime and Amoxicillin against Common Isolates: A Retrospective Study Based on Diagnostic Laboratory Data. J Assoc Physicians India. 2020;68(3):59-63.
5. National Center for Biotechnology Information. PubChem Compound Summary for CID 447043, Azithromycin.
6. Peyriere H, Makinson A, Marchandin H, Reynes J. Doxycycline in the management of sexually transmitted infections. J Antimicrob Chemother. 2017;73:553-563.
7. Singlas E. (1995). Pharmacocinétique clinique de l'azithromycine [Clinical pharmacokinetics of azithromycin]. Pathologie-biologie, 43(6), 505–511.
8. WHO Access, Watch, Reserve (AWaRe) classification of antibiotics for evaluation and monitoring of use, 2021. Geneva: World Health Organization; 2021 (WHO/MHP/HPS/EML/2021.04). Licence: CC BY-NC-SA 3.0 IGO.
9. Grossman TH. Tetracycline Antibiotics and Resistance. Cold Spring Harb Perspect Med. 2016;6(4):a025387. Published 2016 Apr 1. doi:10.1101/cshperspect.a025387
10. Doan T, Worden L, Hinterwirth A, et al. Macrolide and Nonmacrolide Resistance with Mass Azithromycin Distribution. N Engl J Med. 2020;383(20):1941-1950. doi:10.1056/NEJMoa2002606
11. Cerisano G, Buonamici P, Valenti R, et al. Early short-term doxycycline therapy in patients with acute myocardial infarction and left ventricular dysfunction to prevent the ominous progression to adverse remodelling: the TIPTOP trial. Eur Heart J. 2014;35(3):184-191. doi:10.1093/eurheartj/eht420.
12. Mortensen EM, Halm EA, Pugh MJ, et al. Association of azithromycin with mortality and cardiovascular events among older patients hospitalized with pneumonia. JAMA. 2014;311(21):2199-2208. doi:10.1001/jama.2014.4304
13. Hasan, Md & Ahmad, Jamia. (2019). Azithromycin-induced AKI.
14. Ali, A. S., ASattar, M. A., Karim, S., Kutbi, D., Aljohani, H., Bakhshwin, D., … Alkreathy, H. M. (2021). Pharmacological basis for the potential role of Azithromycin and Doxycycline in management of COVID-19. Arabian Journal of Chemistry, 14(3), 102983. doi:10.1016/j.arabjc.2020.10298310.1016/j.arabjc.2020.102983