Prevention of Antibiotic-Associated Diarrhea: Role of Probiotics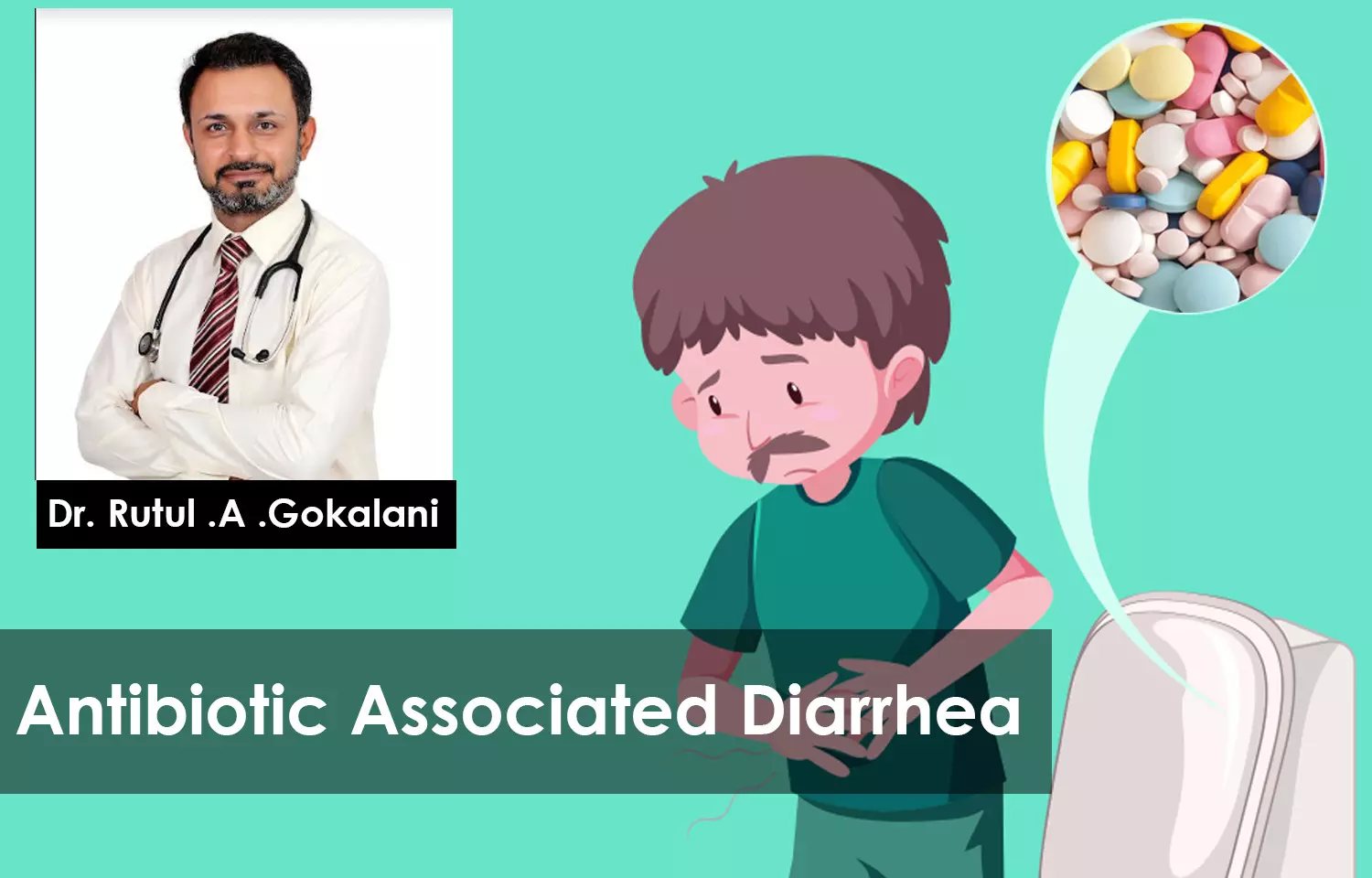 Antibiotic-associated diarrhea (AAD) is clinically defined as diarrhea associated with antibiotic exposure - either while on antibiotics or for up to eight weeks after they have been discontinued [1]. About more than one-third of patients taking antibiotics to develop AAD1. Among the pediatric population, the reported prevalence of AAD is around 11%.(2) However, according to one observation cited by an Indian author, every other child on an antimicrobial agent usually develops some sort of loose motion that may not strictly conform to the definition of diarrhea. (3)

Effect of Probiotics in Antibiotic-Associated Diarrhoea
Treatment with antibiotics disrupts the composition of the gastrointestinal (GI) tract microbiota, leading to increased growth of opportunistic pathogens, the accumulation of undigested carbohydrates, and reduced levels of Short Chain Fatty Acids (SCFAs) and modified bile acids. Probiotics have the potential to counter antibiotic-induced effects in the GI tract by directly impairing pathogen growth or by inducing alterations in gut microbiota composition through synthesis of SCFA and its secreted metabolites such as bacteriocins, reducing luminal pH and oxygen (O2) levels. Probiotics might also modify bile acid composition as well as directly interact with intestinal epithelium and immune system to maintain the integrity of gut barrier function and modulation of water and solute transport4
Probiotics in the treatment of Antibiotic-Associated Diarrhea (AAD)– Evidence Review
Sara Bet al published a systematic review was to assess the clinical utility of probiotics used for the prevention of AAD in outpatient settings. A total of 17 randomized clinical trials (RCTs) with 3631 participants were included in the review. The primary outcome studied was the incidence ofAAD. The pooled results demonstrated that AAD was present in 8.0% of the probiotic group compared to 17.7% in the control arm i.e. a relative risk reduction of 51% (RR 0.49), favouring the use of probiotics. The species-specific results were similar regarding the probiotic strains L. rhamnosus GG and S. boulardii. It was concluded that probiotic use may be beneficial and safe in the prevention of AAD among outpatients.(5) Lactobacilli genus of probiotics represents one of the most diverse and heterogeneous orders of lactic-acid-producing bacteria. Lactobacillus spp. is facultatively anaerobic, catalase-negative, gram-positive, and non-spore-forming bacilli.(6) The Mexican Consensus on Probiotics notes that gastrointestinal disorders in which the benefit of lactobacilli has been demonstrated include antibiotic-associated diarrhoea (AAD), acute infectious diarrhea in children and adults, and prevention of nosocomial diarrhea in children.(7)
Antibiotic-Associated Diarrhoea & Global Probiotics Guidelines: Lactobacillus genus is one of the major considerations

World Gastroenterology Organisation Global Guidelines on Probiotics and Prebiotics have cited the following regarding the consideration for use of probiotics from genus Lactobacillus:
In adults, Lactobacillus based probiotics may be indicated in the treatment of Antibiotic-associated diarrhea (AAD) and for the prevention and recurrence of Clostridium difficile associated diarrhea (CDAD)
In children, Lactobacillus based probiotics may be indicated in the prevention of Antibiotic-associated diarrhea (AAD) (8)
Probiotics - Consideration in Prevention of Complications Associated with Increased Antibiotic Use among COVID-19 Patients
COVID-19 patients in non-hospital, as well as those hospitalized, continue to often receive inappropriate antibiotics. More antibiotic use may translate into higher rates of Antibiotic-Associated Diarrhoea (AAD) or Clostridium difficile infection (CDIs). These complications may result in higher healthcare costs, longer lengths-of-hospitalization stays, leading to an additional burden on already stressed healthcare facilities. The consideration for use of probiotics in conjunction with prudent use of antibiotics in these patient populations may be of clinical value.(9)
Clostridium difficile associated diarrhea(CDAD): The Eyes will See what the Mind Knows!
Indiscriminate use of antimicrobials coupled with the emergence of hypervirulent strains and inadequate infection control measures in hospitals have led to a rise in the incidence of Clostridium difficile associated diarrhea(CDAD). In India, CDAD is still an under-recognized cause of diarrhea, due to lack of clinical suspicion, difficulty in culturing the organism, and the non-availability of cost-effective diagnostic assays. There is a need for the development of rapid, affordable, point-of-the-care gold standard diagnostic tools beyond the currently available Toxigenic Culture (TC), Cell cytotoxicity assay (CCA), Nucleic acid amplification testing (NAAT), and Glutamate Dehydrogenase (GDH) assays.(10)
A study published by Sukhwani K et al, have reported Clostridium Difficile Associated Diarrhea incidence to be 16% at a tertiary care setting in India. Clinically, fever, tenesmus, haematochezia, cramps, use of immunosuppressive agents, and duration of antibiotics was significantly higher among CDAD diagnosed patients. CDAD contributes to significant morbidity among hospitalized patients as it is responsible for more than 1 in 6 cases of diarrhea among hospitalized patients.(11) The other risk factors for an initial episode of Clostridium difficile infection (CDI) include use of multiple antibacterial agents, elderly (age >65 years), severe underlying illness, immunocompromised patients and drugs, HIV infection, tube feeding, gastrointestinal surgery, gastric acid reduction therapy, antineoplastic agents, ICU stay or prolonged hospitalizations (median periods of 20 days).(12)
Therapeutic Potential of Probiotics in Clostridium difficile associated diarrhea
The probiotic strains reported with a potential protective effect against C. difficile infections include Lactobacillus, Saccharomyces, and Bifidobacterium. The mechanisms underlying the protective effect of probiotics against C. difficile include inhibition of growth of C. difficile, degradation of clostridial toxin, modulation of the immune response. The mechanisms of action of beneficial effects of probiotics on CDI may vary among different probiotic strains.(13) The Mexican Consensus on Probiotics cites that Lactobacillihave has been listed in the group of probiotics as beneficial for the prevention of recurrence of diarrhea in children and adults due to C. difficileinfection7.
Concluding Comments
Antibiotic-associated diarrhea (AAD) is fairly pervasive in clinical practice. The burden of AAD may likely worsen amidst increased use, and sometimes even abuse of antibiotics in the COVID-19 era and beyond. Clostridium difficile associated diarrhea (CDAD) incidence seems less reported than its actual occurrence in the real world in India. The diagnostic challenge can be overcome with careful clinical suspicion, especially in hospital care settings. Probiotics-based interventions are of clinical utility in the management of AAD and CDAD with durable evidence for consideration of Lactobacillus spp.
References
Adapted from
1 McFarland LV. Antibiotic-associated diarrhea: epidemiology, trends and treatment. Future Microbiol. 2008; 3:563-578
2 Allam S, Mushtaq M. Antibiotic associated diarrhea in children, Indian Pediatr 2009; 46: 491-496 [PMID: 19556659]
3 Gupte N and Gupte S. Antibiotic-Associated Diarrhoea: Pharmacotherapeutic and Preventive Aspects in Children. Gastroenterol Hepatol Int J 2017, 2(3): 000130.
4Mekonnen SA, Merenstein D, Fraser CM, Marco ML. Molecular mechanisms of probiotic prevention of antibiotic-associated diarrhea. CurrOpinBiotechnol. 2020 Feb; 61:226-234. doi: 10.1016/j.copbio.2020.01.005. Epub 2020 Feb 19. PMID: 32087535; PMCID: PMC7096272.
5Blaabjerg S, Artzi DM, Aabenhus R. Probiotics for the Prevention of Antibiotic-Associated Diarrhea in Outpatients-A Systematic Review and Meta-Analysis. Antibiotics (Basel). 2017 Oct 12;6(4):21. doi: 10.3390/antibiotics6040021. PMID: 29023420; PMCID: PMC5745464.
6 Goldstein EJ, Tyrrell KL and Citron DM. Lactobacillus species: taxonomic complexity and controversial susceptibilities. Clin Infect Dis 2015; 60(Suppl. 2): S98–S107.
7Valdovinos MA, Montijo E, Abreu AT, et al. The Mexican consensus on probiotics in gastroenterology. Consensomexicanosobreprobióticosengastroenterología. Rev Gastroenterol Mex 2017; 82: 156–178.
8 Francisco Guarner et al, World Gastroenterology Organisation Global Guidelines Probiotics and prebiotics 2017: 1-35
9Kullar R, Johnson S, McFarland LV, Goldstein EJC. Potential Roles for Probiotics in the Treatment of COVID-19 Patients and Prevention of Complications Associated with Increased Antibiotic Use. Antibiotics (Basel). 2021 Apr 9;10(4):408. doi: 10.3390/antibiotics10040408. PMID: 33918619; PMCID: PMC8070357.
10 Neelam Taneja, Clostridium difficile Associated Diarrhea: Diagnostic Challenges, JAPI 2018;66:70-73
11Sukhwani K et al, Clinical Profile of Clostridium Difficile Associated Diarrhea: A study from Tertiary Care Centre of South India, Tropical Gastroenterology 2018;39(3):135-141
12Mahuya Bhattacharyya et al, Clostridium difficile and Antibiotic-associated Diarrhea, Indian Journal of Critical Care Medicine (2020): 10.5005/jp-journals-10071-23619
13Liu D, Zeng L, Yan Z, Jia J, Gao J, Wei Y. The mechanisms and safety of probiotics against toxigenic clostridium difficile. Expert Rev Anti Infect Ther. 2020 Oct;18(10):967-975. doi: 10.1080/14787210.2020.1778464. Epub 2020 Jun 16. PMID: 32520637.
The above story has been published under MD Brand Connect Initiative. For more details on probiotics click on this link