Medicos Assaulted at Nair Hospital after patient's death; Maharashtra Resident Doctors shut OPD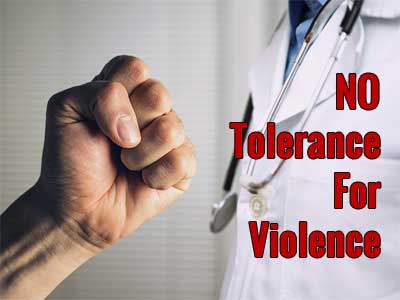 Mumbai: In the wake of uncontrolled violence against doctors, over 500 resident doctors practising in the state recently observed a protest demanding better security measures at hospitals and action against the attackers who assaulted 2 doctors at Nair Hospital recently. The doctors shut the OPD services in protest against the assault.
The protesting doctors were attached to the Maharashtra Association of Resident Doctors (MARD) who severely condemned the back to back assaults in the hospitals.
According to recent media reports, the patient, a 13-year-old boy, with meningitis (inflammation of brain tissues), and had undergone seven operations at Nair Hospital since his birth due to a neurological anomaly and hydrocephalus (fluid buildup in the brain). He was undergoing treatment at the hospital for the past 20 days. After his condition worsened, the doctors wanted to put him on a ventilator. The doctors stated that the relatives allegedly refused permission to do so, and the patient died in the early hours of January 11th 2020. Infuriated with the death of the patient, the relatives launched
an attack on the doctors sustaining the medicos severe injuries.
"When first-year resident doctors who were on duty and treating the patient, broke the news of his death to his parents, the father and other relatives became angry and blamed them. The relatives started abusing the doctors and later slapped them," said an official.
Following the incident, the doctors staged a protest, demanding action against the attackers, and better security measures for the doctors. They also demanded adequate security for the wards, an increase in manpower, fixed visiting hours, and counsellors for relatives of patients.
Read also: Doctor who accused Faridkot Medical College HoD of Sexual Harassment detained for protesting at DC's office
The OPD services from the residents' side of the hospital were also stopped following the attack. Dr Ramesh Bharwal, Dean of the hospital, stated that the hospital has lodged an FIR with the police.
MARD President Dr Kalyani Dongre informed TOI, "The father verbally abused and pushed two resident doctors around." "We don't protest over small incidents like patients spitting on doctors, but assaults need to be stopped," he added.
"It has been a long-time demand of MARD to recruit more security personnel and increase the number of doctors to lessen the burden of work pressure on doctors. We have also raised a demand to fix the visiting hours and make stringent rules to regulate pass system, appoint counsellor of relatives, etc," the statement released by MARD said; quotes Mirror.
The police have registered a case under Sections 353 (assault or criminal force to deter a public servant from perform duty), 332 (voluntarily causing hurt to a public servant ), 323 (Punishment for voluntarily causing hurt) of IPC and the Medical Practitioners' Act against the patient's father, reports ANI. No arrests have been made so far.
Read also: Government Rajaji Hospital: Female PG doctor assaulted by patient kin; Doctors stage flash protest