Meet the New MOS Health - Ashwini Kumar Choubey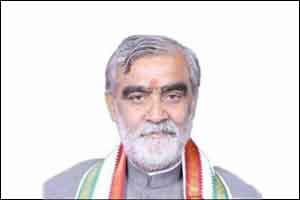 New Delhi: With the recent shuffling of the Modi government cabinet, the Health Ministry has found a new Minister of State -Ashwini Kumar Choubey. He recently took the charge of  MOS (Health).
Ashwini Kumar Choubey is a member of the 16th Lok Sabha representing Buxar (Lok Sabha constituency) and a former health minister of Bihar. He had represented the Bihar legislative assembly from Bhagalpur (Vidhan Sabha constituency) before contesting for the 16th Lok Sabha election.
According to Health Ministry officials, he will be entrusted with the responsibilities which his predecessor Faggan Singh Kulaste dealt with during his tenure.
Immediately after the assuming charge, he got down to work by signing a file relating to laying the foundation stone of a new medical college at Nahaan in Shimla.Ashwini Kumar Choubey, said that enhancing awareness on public health and reducing people's dependence on "medicines and needles" will be high on his agenda.
He stressed that cleanliness and good health were linked and vowed to take forward the Prime Minister Narendra Modi's mission of a clean and healthy India with dedication.
"My motto will be to spread awareness about public health so that people's dependence on medicines and needles is reduced," Choubey said.
Terming as unfortunate the death of 49 infants in a month in the Farrukhabad district hospital in Uttar Pradesh, Choubey said that the government will fight these challenges.
Most of the children died from "perinatal asphyxia", a condition in which the child cannot breathe properly, officials said.
Choubey is known for the slogan "Ghar-ghar me ho shouchalaya ka nirman, tabhi hoga ladli bitiya ka kanyadaan" and helped in constructing 11,000 toilets for Mahadalit families in Bihar.
Choubey held portfolios such as Urban Development, PHED and Health both in NDA I (2005-2010) and NDA II (2010-2013). Prominent Brahmin face from Bihar, he has a Bachelors in Zoology from Science College, Patna University.