Mid Level Medical practitioner: New Proposed Clause in National Medical Commission Bill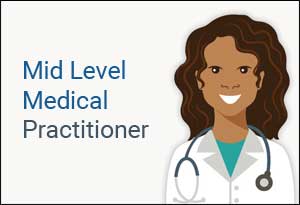 Mid-level medical practitioners would include nurses with specific training, pharmacists, physician assistants, optometrists, among othersNew Delhi
: After drawing the ire of allopathic medical practitioners over the clause of bridge course from AYUSH to MBBS, the proposed National Medical Commission Bill is preparing to be yet again in the line of fire with its latest proposal of creating a new cadre of non-MBBS medical professionals by aiming to give them rights to practise and prescribe medicine in specified areas and under specified conditions.
Tribune reports that there is now a fresh amendment to the National Medical Commission Bill, that calls for the creation of new Cadre called the  "mid-level medical practitioners". The daily quotes the new section as stating
Mid-level medical practitioners will get limited licence to practise specified medicines in primary and preventive healthcare settings and in other settings under the supervision of a medical doctor.
The Bill further adds that a Separate Register shall be maintained by the proposed Board of Ethics of the National Medical Commission similar to that of the allopathic practitioners. Those included in the register will have limited drug prescription rights in settings specified by the NMC as well as in hospital settings such as ICUs under medical doctors' supervision.
It is reported that those who qualify as mid-level medical practitioners include non-MBBS medical professionals such as a nursing practitioner who has done a specific nursing course like tertiary nursing care; pharmacists, physician assistants, optometrists, among others, ministry sources said. These practitioners will be specifically listed by the NMC.
Tribune adds that the proposed amendment has already been passed by the Cabinet and will be the part of the official amendments that would be introduced in the parliament. Ironically, a recent amendment to the Bill called for
removal
of AYUSH- MBBS bridge course clause that implied giving prescription power of modern medicines to AYUSH practitioners. The removal came after the proposal had met with staunch opposition form the allopathic medical fraternity.
Read Also: 
Cabinet Approves 6 amendments to National Medical Commission Bil