Health Ministry to Reconsider debarment of 82 Medical Colleges, hints MoS Health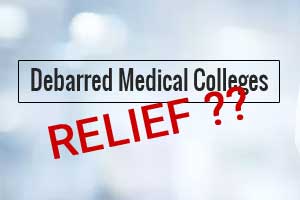 New Delhi: In what might bring a strong sense of relief to medical aspirants across the country, the Minister of State for Health and Family Welfare, Shri Ashwani Kumar Choubey recently
hinted
during a conference that the Union health ministry may reconsider its decision of de-barring 82 medical colleges from admitting students to the MBBS course in the 2018-19 academic year. He further hinted that certain changes are likely to be made soon.
Medical Dialogues team was the first to report about the loss of more than 11,000 MBBS seats for the coming academic year, on account of the fact 82 existing medical colleges had been denied Renewal permission for the coming academic year.
Read Also: 11800 Seats lost: 82 medical colleges not given MBBS Renewal by Health Ministry
Besides this, another 68 new medical colleges have been denied permission of establishment with an opportunity of 9000 additional MBBS seats being lost. Moreover, 9 medical colleges have been denied the permission to increase their seats finally leading to a loss of another 650 MBBS seats.
Read Also: 68 New Medical Colleges denied establishment permission this year, 9000 MBBS seats lost
Taking up the issue of loss of MBBS seats, the minister hinted that the Health Ministry is again reviewing the decisions. He also took a dig at the Medical Council of India
"The MCI's recommendation has come in the way of government's vision of seeing over 10,000 new students take up the MBBS course. We will surely do something about it," Union minister of state for health Ashwini Kumar Choubey said on the sidelines of an interactive session at the Merchants' Chamber of Commerce and Industry in Calcutta, reports the Daily Telegraph.
"There are several issues. But I am in the government and can't say much. But some changes would happen very shortly."
"We want more doctors for specialty and super specialty hospitals. The MCI is a regulatory body. We are working to find a way out. Hopefully, some good news will be coming soon," Choubey told the Telegraph.
Disappointed with their existing medical colleges being denied renewal permission, many state governments are in the process of knocking at the doors of the Supreme Court challenging the decision of the government which is based on MCI recommendations.
Read Also: With 3300 MBBS seats lost, Uttar Pradesh to seek review of MCI decision