More than 8 Lakh Chemists gear up for shutter down on 14th October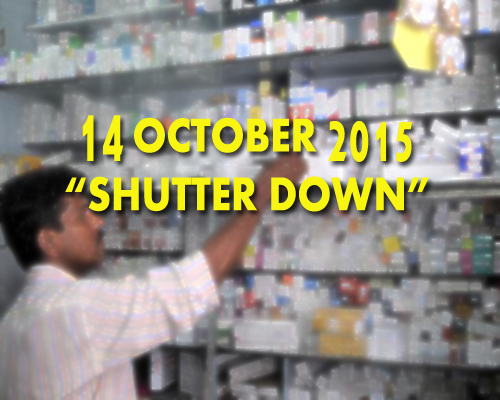 Fearing the reign of
online pharmacies
impacting their livelihood, more than 8 lakh chemists are organizing a nationwide strike on the 14th October under the banner of All India organization of Chemists & druggists ( AIOCD)
Calling the
existence of online pharmacies
unlawful 
Mr. J.S Shinde , President, AIOCD
 announced a nation-wide strike on the 14th of october, 2015, across India during a press conference in Delhi.
Mr. Suresh Gupta, Hon Secretary, AIOCD, said,
"The government should crack down any online sale of medicines as it raises the risk of misuse of drugs. Presently online pharmacy business is going illegally and govt. authorities are not taking any action against it, hence we have no alternative than to go on strike to protest health of general public.
The government's move toward regularizing the sale of medicines through the internet would increase the risk of adverse drug reaction, which will give an opening for the entry of low-quality, misbranded and spurious products. Entering of low quality products will have major setback economically, which is estimated to be about 8 lakh chemists and about 80 lakh workers and their families.
Mr. Sandeep Nangia, President, RDCA,
Delhi, says that 'coming out in support of the nationwide strike called by All-India organization of chemists and Druggists (AIOCD)to Protest online sale of Drugs, more than 12000 chemists and wholesalers in the city will keep their shop closed on October 14 and participate in the protest at Jantar  Mantar New Delhi.
This would be supported by shutter downs by pharmacists in other
states
as well.
Earlier the sub-committee was Set up by the DCGI to assess the feasibility of online pharmacies,  to monitor the action in the online space by players like Snapdeal, Flipkart, Amazon and to decide whether to include online pharmacies under the ambit of the Drugs and Cosmetics Act, 1940
Read Also