Upto 5-year jail, Rs 1 Crore fine for medical negligence in Madhya Pradesh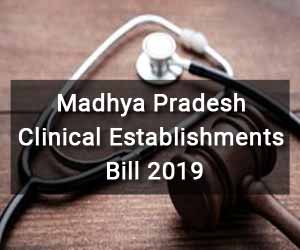 Madhya Pradesh: Hospitals held accountable for medical negligence leading to death of a patient may now face a fine of upto Rs 1 crore and/or with a jail time extending upto 5 years,  a recent draft bill of the Clinical Establishment Act in Madhya Pradesh has stated.
The drafted Clinical Establishment Bill, 2019 has been recently placed in public domain. As stipulated in the recently drafted Clinical Establishment Bill,  there can be upto one-year imprisonment and/or a fine up to Rs 10 lakh for clinical establishments in cases of medical negligence if a patient suffers serious injuries due to negligence during treatment, surgery or diagnosis. In case of death due to negligence, the penalty goes upto Rs 1 crore and/or a jail time extending upto 5 years
The bill also calls for the constitution of Madhya Pradesh Clinical Establishment Regulatory Commission that would regulate the functioning of clinical establishments as well monitory the functioning of the district registering authority with which all clinical establishments in the state would have to be registered.
The draft bill goes on to define the meaning of clinical establishments that would include hospital, dispensary, clinics, sanatorium, nursing home, maternity home, dental clinic/hospital, critical care units, laboratories,mobile medical unity,healthcare or wellness centre, physical therapy establishment, ambulance services as well ask consultation centres. The bill further defines recognised system of medicine to include allopathy, AYUSH as well as any other systems of medicine recognised by appropriate government.
The bill calls that all clinical establishments have to be registered with the District Registering Authority
The bill also specifies the process of creation and the functions of the District Registering Authority as well as the Madhya Pradesh Clinical Establishment Regulatory Commission. Besides issues of medical negligence, the commission also possess the power to impose a monetary penalty up to 50 lakhs in case of any violation of the process under this Act.
The key highlight of the bill is the provision related to offence committed by the clinical establishments or the medical practitioners wherein;



if any clinical establishment whether by itself or by any other person on its behalf, while providing any diagnosis, treatment or care for illness, injury, deformity, abnormality, pregnancy and or medicine, surgery in any recognised system of medicine, causes death of such person, due to negligence, such person of the Clinical establishment or the Clinical establishment, as the case may be, shall be punishable with imprisonment for a term which shall not be less than three year, but which may extend to five years, or with fine which shall not be less than one lakh rupees, but may extend to one crore rupees, or with both.



With the bill issued on October 1, the Government intends to cancel and replace the Madhya Pradesh Upcharyagriha Tatha Rujopchar Samabandhi Sthapnaye (Registrikaran Tatha Anugyapan) Adhiniyam, 1973, with the Madhya Pradesh Clinical    Establishments  (Registration and Regulation) Act, 2019; that will provide for the registration and regulation of clinical establishments and to establish a District Registering Authority for Registration, regulation and dispute redressal and also to establish the Appellate body to hear appeal from the decisions, directions and orders of the District Registering Authority, and for matters connected therewith and or incidental thereto.
Also Read: Govt notifies Draft Delhi Health Bill, invites stakeholder comments
Attached is the bill