MP Medical Council sends notices to 50 doctors for advertising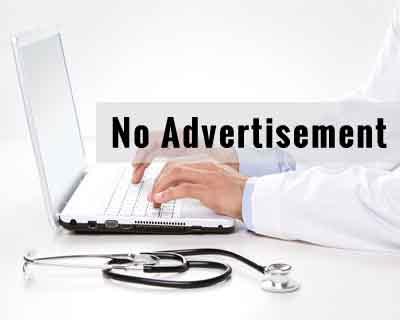 Adding to the long lists of notices sent by many State Medical Council to its members barring them from advertising and hence breaking the code of Medical Ethics, is now the Madhya Pradesh Medical Council. The state Medical Council is reported to have recently sent warning notices to 50 of its prominent members asking them not to advertise or promote their skills.
The State council has summoned these doctors, asking them to file a response in the next 15 days. Failure to submit a satisfactory response may lead to suspension of the doctors' license, sources at the council pointed out. The council has further issued a warning to its members to avoid printing of their photographs on their letterheads or use elaborate signboards. It is also planning to initiate action against various hospitals that are supposedly putting forward the names of associated doctors as a part of promotion.
Dr G S Patel, Council's chairman told TOI, "It is unethical that doctors are advertising their skills through various means. They are regularly featuring themselves in advertisements claiming to cure infertility, diabetes, obesity and other conditions. Summon has been issued to warn that such activities cannot be tolerated."
The action comes after the state council received number of complaints about advertisements by doctors.
What the Act Says
Section 6.1 of the Indian Medical (Professional Conduct, Etiquette and Ethics) Regulations, 2002 deal with the concerned section on advertisements by Practitioners. It clearly states:- A physician shall not aid or abet or commit any of the following acts which shall be construed as unethical –
6.1 Advertising: 6.1.1 Soliciting of patients directly or indirectly, by a physician, by a group of physicians or by institutions or organisations is unethical. A physician shall not give to any person, whether for compensation or otherwise, any approval, recommendation, endorsement, certificate, report or statement with respect of any drug, medicine, nostrum remedy, surgical, or therapeutic article, apparatus or appliance or any commercial product or article with respect of any property, quality or use thereof or any test, demonstration or trial thereof, for use in connection with his name, signature, or photograph in any form or manner of advertising through any mode nor shall he boast of cases, operations, cures or remedies or permit the publication of report thereof through any mode. A medical practitioner is however permitted to make a formal announcement in press regarding the following:


On starting a practise


On change of type of practice.


On changing address.


On temporary absence from duty


On resumption of another practice


On succeeding to another practice


Public declaration of charges


6.1.2 Printing of self photograph, or any such material of publicity in the letter head or on sign board of the consulting room or any such clinical establishment shall be regarded as acts of self advertisement and unethical conduct on the part of the physician. However, printing of sketches, diagrams, picture of human system shall not be treated as unethical.