Mr Bill Gates Meets Union Health Minister J P Nadda on health issues in India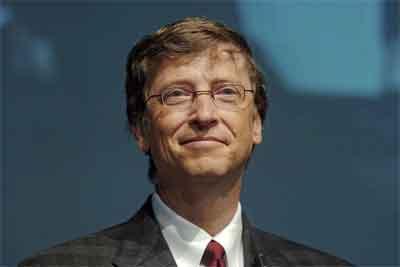 New Delhi : Mr. Bill Gates, Co-Chair & Trustee, Bill and Melinda Gates Foundation called on the Union Minister for Health & Family Welfare, Shri J P Nadda, here. They discussed various issues relating to the health sector in India. During the meeting, Mr. Gates expressed appreciation for the initiatives taken by the Ministry towards strengthening the health systems, particularly in expanding the coverage of immunisation through Mission Indradhanush, increasing the basket of vaccines and the choices for women in reproductive healthcare. The Gates Foundation reinforced their commitment in supporting the Government and Ministry of Health & Family Welfare (MoHFW) on shared health priorities, including the National health Protection Scheme (NHPS). Shri Faggan Singh Kulaste and Smt Anupriya Patel, Ministers of State for Health and Family Welfare were also present in the meeting.
The Health Minister, Shri J P Nadda, stated that the Government is committed to providing universal health coverage to all citizens. He added that the Government understands the significance of improving the delivery of public health provisions including vaccination, family planning and maternal health outcomes, in promoting all-round growth and development of women and children who from the bedrock of a healthy nation.
The Health Minister appreciated the efforts of Gates Foundation in complementing the efforts of the Government in the health sector, which has enhanced the capacity of the health workers for more effective implementation of the projects. "We acknowledge that the cooperation is mutually beneficial, desirable and necessary for achieving our vision of a Healthy India and look forward to working with the Gates Foundation and leveraging their expertise to support our efforts in strengthening our health systems," Shri Nadda said.
The Health Minister elaborated on the success of Mission Indradhanush aimed to cover all missed-out and left-out children and pregnant women with cover of full immunization, and the successes with the nationwide initiative. The strengthening of the Universal Immunization Plan (UIP) is aimed at improved health outcomes in maternal and child healthcare, Shri Nadda stated. He said that the Ministry is progressing well on empowering the ANMs with ANMOL through tablets which has contributed to strengthening the health systems at the cutting edge. The innovative approach in addressing TB with the involvement and support of the private sector was also mentioned by the Health Minister. Expressing his appreciation, Mr. Bill Gates said that this was a novel and pioneering move which has the potential to make a huge difference. The model of involving the private sector may be useful for addressing other diseases too, he stated.
In addition to the electronic Vaccine Intelligence Network (eVIN), Mr. Bill Gates also appreciated the steps taken in reproductive health where women have now more choices to plan their family.
Also present in the meeting were, Shri C K Mishra, Secretary (HFW) Dr. (Prof) Jagdish Prasad, DGHS, and other senior officers of the Health Ministry and representatives of Gates Foundation.