Mumbai: Drunk Patient attacks doctor with knife, slashes arm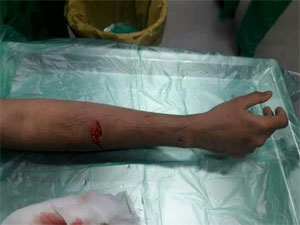 Mumbai: Another incidence of violence against doctor has been reported from KEM hospital in Mumbai. Whats different this time, is that its not the relatives but the patient himself who was seen attacking the doctor with a

It is reported that a patient who was under the influence of alcohol was brought to the emergency ward of KEM hospital with some non serious injuries. While the doctor was tending to the wounds of the patient, the patient became violent and attacked the doctor with a surgical blade, slashing him on the arm.

The police was immediately informed and FIR lodged.

While in police Custody, the drunk patient alleged that he was angry as he was not being tended to urgently by the doctors. The doctors on the other hand replied that all his investigations were done in timely fashion and he was made to wait only because they were attending to other seriously ill patients.

Dr Yashowardhan Kabra, president of the Maharashtra Association of Resident Doctors (MARD) told TOI that the attack was "spontaneous and made while the wound was being stitched". "There was no involvement of any patient's relative in the incident. The patient was accompanied by a single relative as per the security protocols," he said.